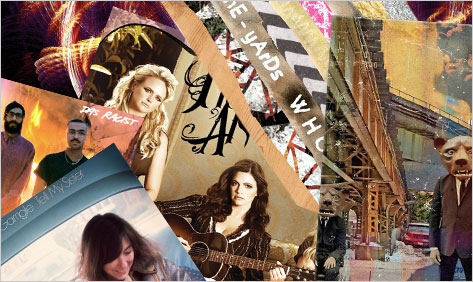 To read Robert Christgau's essay on this year's Dean's List picks, click here.

1. Das Racist: Relax (Greedhead)
2. Wussy: Funeral Dress II (Shake It)
3. Paul Simon: So Beautiful or So What (Hear Music)
4. Frank Ocean: Nostalgia, Ultra (free download)
5. tUnE-yArDs: w h o k i l l (4AD)
6. Kate & Anna McGarrigle: Tell My Sister (Nonesuch)
7. Blaqstarr: The Divine EP (N.E.E.T.)
8. Wussy: Strawberry (Shake It)
9. Teddybears: Devil's Music (Big Beat)
10. Pistol Annies: Hell on Heels (Columbia)
11. Jens Lekman: An Argument with Myself (Secretly Canadian)
12. The Plastic People of the Universe: Magical Nights (Munster '10)
13. Carolina Chocolate Drops/Luminescent Orchestrii: Carolina Chocolate Drops/Luminescent Orchestrii (Nonesuch)
14. Withered Hand: Good News (Absolutely Kosher)
15. Rave On Buddy Holly (Fantasy)


16. Mekons: Ancient & Modern: 1911-2011 (Sin)
17. Jay Z Kanye West: Watch the Throne (Roc-A-Fella)
18. Pietra Montecorvino: Napoli Mediterranea (Taranta Power/Rai Trade)
19. Oneohtrix Point Never: Replica (Software)
20. Gil Scott-Heron and Jamie xx: We're New Here (XL)
21. The Baseball Project: Volume 2: High and Inside (Yep Roc)
22. Fountains of Wayne: Sky Full of Holes (Yep Roc)
23. Miranda Lambert: Four the Record (RCA)
24. Todd Snider: Todd Snider Live‑-The Storyteller (Thirty Tigers/Aimless)
25. Merle Haggard: Working in Tennessee (Vanguard)
26. Afro Latin Via Dakar (Syllart Productions/Discograph)
27. Afro Latin Via Kinshasa (Syllart Productions/Discograph)
28. Aaron Neville: I Know I've Been Changed (EMI Gospel/Tell It '10)
29. Wild Flag: Wild Flag (Merge)
30. Street Sweeper Social Club: The Ghetto Blaster EP (SSSC '10)
31. Lady Gaga: Born This Way (Streamline/Interscope/KonLive)
32. TV on the Radio: Nine Types of Light (Interscope)
33. Wynton Marsalis & Eric Clapton: Wynton Marsalis & Eric Clapton Play the Blues: Live from Jazz at Lincoln Center (Reprise Jazz)
34. Poly Styrene: Generation Indigo (Future Noise Music)
35. Low Cut Connie: Get Out the Lotion (lowcutconnie.com)
36. Mates of State: Mountaintops (Barsuk)
37. Ry Cooder: Pull Up Some Dust and Sit Down (Nonesuch)
38. Raphael Saadiq: Stone Rollin' (Columbia)


39. Those Darlins: Screws Get Loose (Oh Wow Dang)
40. SebastiAn: Total (Big Beat/Atlantic/Because/Ed Banger)
41. Emperor X: Western Teleport (Bar/None)
42. Shabazz Palaces: Black Up (Sub Pop)
43. Generation Bass Presents: Transnational Dubstep (Six Degrees)
44. Steve Cropper: Dedicated: A Salute to the 5 Royales (429)
45. Bachata Roja: Amor y Amargue (iASO)
46. The Extra Lens: Undercard (Merge '10)
47. Eric

Church: Chief (EMI)
48. Deer Tick: Divine Providence (Partisan)
49. Let's Wrestle: Nursing Home (Merge)
50. Superchunk: Majesty Shredding (Merge '10)
51. Lobi Traore: Bwati Kono "In the Club" (Kanaga System Krush)
52. Brad Paisley: This Is Country Music (Arista Nashville)
53. Garland Jeffreys: The King of In Between (Luna Park)
54. Note of Hope (429)
55. Group Doueh: Zayna Jumma (Sublime Frequencies)
56. Saigon: The Greatest Story Never Told (Suburban Noize)
57. The Russian Futurists: The Weight's on the Wheels (Upper Class '10)
58. Gurf Morlix: Blaze Foley's 113th Wet Dream (Rootball)
59. Vieux Farka Touré: The Secret (Six Degrees)
60. Gang of Four: Content (Yep Roc)
61. Bombino: Agadez (Cumbancha)
62. Battles: Gloss Drop (Warp)
63. Buck 65: 20 Odd Years (WEA)
64. Terakaft: Aratan N Azawad (World Village)
65. Fruit Bats: Tripper (Sub Pop)
66. Drive-By Truckers: The Fine Print (A Collection of Oddities and Rarities) 2003-2008 (New West '09)
67. Kate & Anna McGarrigle: Odditties (Querbeservice '10)
68. The B-52's: With the Wild Crowd! (Eagle)
69. Peter Stampfel and Jeffrey Lewis: Come on Board (no label)
70. Drive-By Truckers: Go-Go Boots (New West)
71. Childish Gambino: Culdesac (free download '10)


72. Serengeti: Family & Friends (Anticon)
73. Dave Alvin: Eleven Eleven (Yep Roc)
74. Stephin Merritt: Obscurities (Merge)
75. David Bowie: Station to Station (Special Edition) (EMI '10)
76. Nigeria 70: Sweet Times: Afro-Funk, Highlife & Juju From 1970s Lagos (Strut)
77. Ravid Kahalani: Yemen Blues (GlobaLev)
78. Mayer Hawthorne: How Do You Do (Universal Republic)
79. Tom Waits: Bad as Me (Anti-)
80. Beastie Boys: Hot Sauce Committee Part Two (Capitol)
81. Rihanna: Talk That Talk (Deluxe Edition) (Def Jam)
82. 19 Classic Blues Songs From the 1920's: Vol. 9 (Blues Images)
83. Wire: 14 September 2002, Metro, Chicago (pinkflag.com '10)
84. Lykke Li: Wounded Rhymes (Atlantic)
85. Middle Brother: Middle Brother (Partisan)
86. Sofrito: Tropical Discotheque (Strut)
87. Jill Scott: The Light of the Sun (Blues Babe/Warner Bros.)
88. Shabazz Palaces: Of Light (Switchblade Music/Templar '09)
89. Thurston Moore: Demolished Thoughts (Matador)
90. M.I.A.: Vicki Leekx Mixtape (vickileekx.com download '10)
91. The Lonely Island: Turtleneck & Chain (Universal Republic)
92. Sorry Bamba: Volume One 1970-1979 (Thrill Jockey)
93. Childish Gambino: Camp (Glassnote)
94. Nine 11 Thesaurus: Ground Zero Generals (The Social Registry)
95. Yuck: Yuck (Fat Possum)
96. Jeffrey Lewis: A Turn in the Dream-Songs (Rough Trade)
97. Pusha T: Fear of God II (GOOD/Decon/Re-Up Gang)
98. Shabazz Palaces: Shabazz Palaces (Switchblade Music/Templar '09)
99. The Klezmatics: Live at Town Hall (Klezmatics Disc)
100. Tinariwen: Tassili (Anti-)
101. Scott Miller: Christmas Gift (FAW)
102: Nils Petter Molvaer: Baboon Moon (Thirsty Ear)


103. Neil Young International Harvesters: A Treasure (Reprise)
104. BLNRB: Welcome to the Madhouse (Out Here)
105. Rainbow Arabia: Boys and Diamonds (Kompakt)
106. Jazmine Sullivan: Love Me Back (J '10)
107. Gold Panda: Lucky Shiner (Ghostly International '10)

Robert Christgau's reviews of these records can be found at Microsoft Networks, which publishes his Expert Witness blog, and at robertchristgau.com.