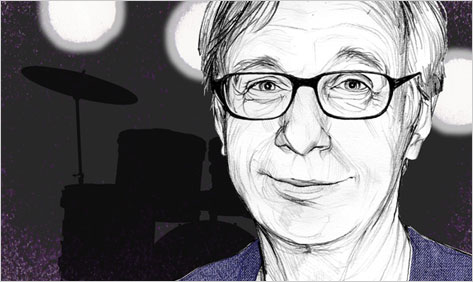 To read Robert Christgau's essay on this year's Dean's List picks, click here.
1. Brad Paisley: American Saturday Night (Arista Nashville)
2. Franco: Francophonic Vol. 2 (Sterns Africa)(Sterns Africa)
3. Loudon Wainwright III: High Wide & Handsome: The Charlie Poole Project (161)
4. Leonard Cohen: Live in London (Columbia)
5. The Black Eyed Peas: The E.N.D. (Interscope)
6. The Baseball Project: Vol 1: Frozen Ropes and Dying Quails (Yep Roc '08)
7. K'naan: Troubadour (A&M)
8. Amadou & Mariam: Welcome to Mali (Nonesuch)
9. tUnE-yArDs: BiRd-BrAiNs (4AD)
10. Wussy: Wussy (Shake It)
11. The xx: The xx (XL/Young Turks)
12. Mos Def: The Ecstatic (Downtown)
13. Serengeti: Dennehy (Lights, Camera, Action!)(audio8.com '08)
14. Oumou Sangare: Seya (Nonesuch)
15. Nellie McKay: Normal As Blueberry Pie–A Tribute to Doris Day (Verve)
16. Nirvana: Live at Reading (DGC)
17. Lily Allen: It's Not You, It's Me (Capitol)
18. Willie Nelson & Asleep at the Wheel: Willie and the Wheel (Bismeaux)
19. Marianne Faithfull: Easy Come Easy Go (Decca)
20. Miranda Lambert: Revolution (Columbia)
21. Ghostface Killah: Ghostdini the Wizard of Poetry in Emerald City (Def Jam)
22. DJ /Rupture: Uproot (The Agriculture '08)
23. Mulatu Astatke/The Heliocentrics: Inspiration Information (Strut)
24. Moby: Wait for Me (Mute)
25. Sonic Youth: The Eternal (Matador)
26. Doom: Born Like This (Lex)
27. White Denim: Workout Holiday (Full Time Hobby '08)
28. Neil Young: Fork in the Road (Reprise)
29. Richard Hell: Destiny Street Repaired (Insound.com)
30. The Coathangers: Scramble (Suicide Squeeze)
31. The Hold Steady: A Positive Rage (Vagrant)
32. Regina Spektor: Far (Sire)
33. Bobby Pinson: Songs for Somebody (Cash Daddy '07)
34. Glasvegas: Glasvegas (Columbia)
35. Death Cab for Cutie: The Open Door (Atlantic)
36. Modest Mouse: No One's First, and You're Next (Epic)
37. Wilco: Wilco (The Album) (Nonesuch)
38. Fruit Bats: The Ruminant Band (Sub Pop)
39. Patterson Hood: Murdering Oscar (and Other Love Songs) (Ruth St.)
40. Now That's What I Call Party Hits! (Capitol '07)
41. Dark Was the Night (4AD)
42. A Place to Bury Strangers: Exploding Head (Mute)
43. Fever Ray: Fever Ray (Mute)
44. Goran Bregovic: Alkohol (Wrasse)
45. Art Brut: Art Brut vs. Satan (Downtown)
46. Jay-Z: The Blueprint 3 (Roc Nation)
47. African Pearls: Senegal 70: Musical Exuberance (Syllart)
48. PJ Harvey & John Parish: A Woman a Man Walked By (Island))
49. Yeah Yeah Yeahs: It's Blitz! (Interscope)
50. Girls: Album (True Panther/Fantasy Trashcan)
51. The Pains of Being Pure at Heart: The Pains of Being Pure at Heart (Slumberland)
52. Tegan and Sara: Sainthood (Vapor/Sire)
53. White Denim: Fits (Downtown)
54. Rhett Miller: Rhett Miller (Shout! Factory)
55. Allen Toussaint: The Bright Mississippi (Nonesuch)
56. The Rough Guide to Tango Revival (World Music Network)
57. Deer Tick: Born on Flag Day (Partisan)
58. They Might Be Giants: Here Come the 123s (Disney Sound '08)
59. Jay Reatard: Watch Me Fall (Matador)
60. God Help the Girl: God Help the Girl (Matador)
61. An Horse: Rearrange Beds (Mom & Pop)
62. Jozef van Wissem: A Rose by Any Other Name: Anonymous Lute Solos of the Golden Age (Incunabulum '06)
63. The Rough Guide to Merengue Dance (World Music Network)
64. New York Dolls: 'Cause I Sez So (Atco)
65. The Avett Brothers: I and Love and You (American)
66. The Living Things: Habeas Corpus (Jive)
67. Veda Hille: This Riot Life (Ape House '08)
68. The Flaming Lips: Embryonic (Warner Bros.)
69. Occidental Brothers Dance Band International: Odo Sanbra (Occidental Brothers)
70. Shakira: She Wolf (Epic)
71. Bela Fleck: Throw Down Your Heart: Tales From an Acoustic Planet Vol. 3: Africa Sessions (Rounder)
72. The Panic Is On (Shanachie)
73. Mulatu Astatke: New York-Addis-London: The Story of Ethio Jazz 1965-1975 (Strut)
74. Kronos Quartet: Floodplain (Nonesuch)
75. The Lonely Island: Incredibad (Universal Republic)
76. Lady Sovereign: Jigsaw (Midget)
77. Group Bombino: Guitars From Agadez Vol. 2 (Sublime Frequencies)
78. The Dead Weather: Horehound (Third Man)
79. Abe Vigoda: Skeleton (PPM '08)
80. Rail Band: Rail Band 2: Mansa (Belle Epoque '08)
81. Panama! 2 (Soundway)
82. Jonatha Brooke: The Works (Bad Dog '08)
83. Staff Benda Bilili: Tres Tres Fort (Crammed Discs)

Robert Christgau's Consumer Guide reviews of most of these records can be found at msn.com.