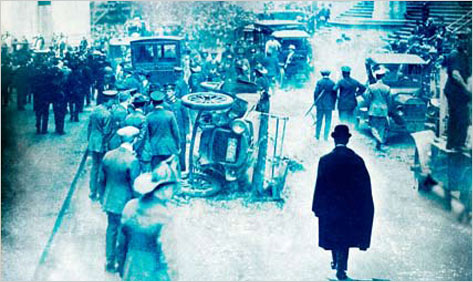 TheWall Street bombing which took place on September 16, 1920 was—until 2001—themost deadly terrorist attack ever to strike New York City. In the immediatevicinity of the blast were the buildings of J. P. Morgan and Co., the world'smost powerful financial institution; the U.S. Assay Office, which housed $900million in gold; and the U.S. Sub-Treasury, while around the corner was the NewYork Stock Exchange. To complicate matters still further, a leaflet foundnearby demanded the freeing of "political prisoners." Hundreds ofpolicemen and FBI agents tried to identify the culprits and their motives, withAnarchists, Bolsheviks, Communists, Russians, and Italians all suspected inturn. No one claimed responsibility; to this day the case has never beenofficially solved.
The September 16thattack kick-starts Jed Rubenfeld's intelligent, fast-paced historical thriller The Death Instinct. Among the witnesses of the explosion are warsurgeon Dr. Stratham Younger, his friend Captain James Littlemore of the NYPD,and Colette Rousseau, a radiochemist whom Younger met in France during theFirst World War, and who is in America trying to raise funds for her mentor,Marie Curie. Littlemore takes a professional interest in the Wall Streetatrocity, finding himself caught between political, civic, and business forces.Each has secrets to hide and agendas to advance. Younger and Rousseau,meanwhile, are plunged into a separate series of crises and adventures: beforethe first sixty pages have elapsed there has been—in addition to the WallStreet bombing—a mysterious letter, a kidnapping, two murders, and theappearance of a hideously deformed woman who seems to be trying to send amessage to Colette.
A lengthy flashbackexplaining how and when Younger and Rousseau first met slows things downmomentarily. Once this is out of the way, however, Rubenfeld begins to developthe various plot strands that have been set in motion. His writing, too,becomes more assured, as when he describes a number of women who have daubedtheir eyes with luminous make-up, "creating paired circles ofphosphorescence that turned the dark portal of the church into a kind of grottofrom which nocturnal birds or beasts seemed to peer out." The teasingpossibility of romance betweenStratham and Colette is handled deftly, and the period color of post-War Paris,Vienna, and Prague provides a vivid backdrop, while various historicalfigures—including Sigmund Freud, Madame Curie, Treasury Secretary WilliamMcAdoo, and FBI head "Big" Bill Flynn—weave in and out of the plot.Freud is given the largest role, and makes perhaps the most disturbing commentin the novel, when he suggests to Younger that the perpetrators of the bombingare already dead. "You think they killed themselves in theblast—deliberately," Younger says slowly, to which Freud replies "Maybethey did, maybe they didn't . . . . Maybe they'll give others the idea."
It's not the only timethat Rubenfeld draws parallels between the events of 1920 and the present day.Indeed, he's at his best with the aftermath of the Wall Street explosion,blending fact and fiction seamlessly to create a gripping mystery. He isequally successful with the engaging, observant, tenacious, and dryly humorousJimmy Littlemore. "Somebody has to" is his reply, when he's accusedof playing by the rules. His dogged pursuit of the truth behind the events ofSeptember 16th, and his refusal to compromise, lends The Death Instinct its heart. Asuggestion to the author: a series featuring the continuing adventures of JimmyLittlemore. Perhaps he could investigate the disappearance of Judge Crater . .. .
---
Barbara Roden is a writer, editor, publisher, and reviewer who lives in British Columbia.