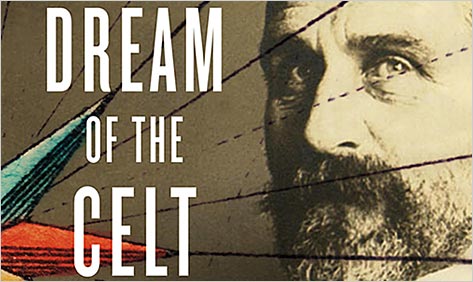 The Celt of Mario Vargas Llosa's novel The Dream of the Celt — his first since receiving the Nobel Prize in literature — is Roger Casement, an Anglo-Irishman born in 1864 who wrote an epic poem of the same title and participated in the Irish nationalist movement that led to the Easter uprising in 1916. Like other historical figures featured in recent Llosa novels — Rafael Trujillo, the Dominican despot, in The Feast of the Goat and Paul Gauguin in The Way to Paradise — Casement was an ambitious and adventurous man with very strong sexual appetites, a dream subject for any novelist.

In his twenties Casement worked for the explorer Henry Morton Stanley in the Congo, where he showed the ropes to a Polish sea captain who later took the name Joseph Conrad and, according to Llosa, said Casement should have been credited as the coauthor of Heart of Darkness. An idealist who hoped to bring the three C's — Christianity, civilization, and commerce — to Africa, Casement eventually soured on the colonial project and in 1904 published a scathing exposé of brutal practices in the rubber industry. One of his informants, an officer in the Belgian Force Publique, tells Casement how the military preserves ammunition: "Each time they fire they cut off the hand or penis of the man they shot," the captain explained. "To confirm that bullets are not being wasted on hunting." Facts such as this made Casement and his report famous in Great Britain and America.

After spending some years as a consul in Brazil, Casement doubled his fame by writing a second report in 1911, this time on the even more brutal and genocidal actions of colonial rubber harvesters in what was then northern Peru, Llosa's homeland. Although Casement's health frequently suffered in primitive locales and his life was often at risk because he threatened powerful economic interests, he managed to keep voluminous notebooks and took photographs that documented the torture that Europeans inflicted on the tribes of the Congo and Amazonia. Casement's files, as well as his reports, provide Llosa with a huge trove of information that he uses to create an impressive and sometimes overwhelming historical authenticity, particularly in the many pages devoted to the degradation of Indian culture in Peru, a subject he had previously treated in The Storyteller. One example: Llosa has a supervisor on one of the rubber plantations tell Casement how the owners retain their laborers: "Many indigenous are branded with the company initials: CA, that is, Casa Arana. Like cows, horses, and pigs. So they won't escape or be taken by Colombian rubber planters."

In his late forties, though knighted by Great Britain, Casement decried British colonialism in Ireland and joined the Irish Volunteers, a prominent separatist group. In 1914, while Britain was at war with Germany, he secretly traveled there to seek aid for the Volunteers and to recruit Irish prisoners of war held by the Germans to participate in the planned uprising. This well-documented period of Casement's life resembles a spy novel: betrayal by a lover who may have been a British double agent; coded messages and renamed ships; his landing on the Irish coast from a German submarine. But Casement was no Irish Bond: he was immediately captured, sentenced to death for treason, and hanged on August 3, 1916.

Given these materials, how could an experienced and award-winning novelist go wrong? In several ways, it turns out. The Dream of the Celt more resembles a laboriously constructed old-fashioned biography — with potted explanations of geography, economics, politics, and religion — than a contemporary novel. Llosa's style, at least in this translation, is pedestrian, long-haul prose, rarely figurative or inventive. Specifics about the ships Casement took, the hotels where he stayed, and the meals he ate exceed the need for verisimilitude. Llosa also repeats details about methods of torture as Casement moves from one remote station to another. What might occasion a confrontation with atrocity is instead sometimes summarized in the kind of statistics and lists one finds in nonfiction:
The system imposed by the rubber barons had already annihilated three-fourths of the indigenous population. Many undoubtedly had been victims of smallpox, malaria, beriberi, and other epidemics. But the immense majority disappeared because of exploitation, hunger, mutilations, the pillory, and murder.
Hewing to a biographer's conscientiousness about facts, The Dream of the Celt is mostly exposition and narration, with very little invented dialogue and thus minimal on-page drama, despite the book's many exciting incidents. Llosa showed no such restraint when writing about Trujillo and Gauguin, and they became memorable speaking characters as well as plausible historical representations. The Dream of the Celt attempts to balance telling and showing by alternating chapters that describe Casement's adventures and chapters set in his 1916 prison cell, where the novelist does imagine dialogue with the few visitors allowed Casement. But these chapters are short and often slide from conversation to Casement's retrospection. Although the prison chapters also gesture at suspense — will Casement's plea for clemency be heard? — anyone who reads the dust jacket will know he was executed.

Casement's plea may have failed because after his conviction the British government leaked portions of his journals that came to be known as the Black Diaries, in which Casement described intermittent but seemingly compulsive homosexual liaisons with mostly paid partners in Third World countries. Casement loyalists claimed the diaries were British forgeries. Recent scientific examination of the documents suggests they were authentic. Although Llosa occasionally has Casement describe attractive young men early in the novel, the author chooses to hide from the reader until late, as Casement hid from the public, experiences recorded in the Black Diaries. In an epilogue, Llosa takes a middle position on the diaries: that Casement wrote them but with "a good deal of exaggeration and fiction" — writing as wish fulfillment. A scrupulous tell-all chronicler in ways I've mentioned, Llosa is more like a family-authorized biographer in his treatment of very raw sexual material.

If it makes a difference, I attribute the artistic weaknesses of The Dream of the Celt to the author's good intentions, which seem similar to his subject's. Casement cared little for money and worked tirelessly for truth and justice. Llosa could have, I believe, produced a more commercial novel or devised a more artful fiction from Casement's life, but he chose to eschew both congenial storytelling and postmodern sheen to load his book with historical truths and cultural injustices, more like Victor Hugo than Llosa's cherished Flaubert. Although the novelist's versions of Trujillo and Gauguin associate their power and art with their heterosexuality, Llosa shies from Casement's homosexuality even though it was crucial to his real — or dream — life. In this regard, The Dream of the Celt seems like an authorial wish-fulfillment, one that reverses the fantasies Llosa thought were Casement's. The author wishes that his heroic early anti-colonial campaigner for human rights in the impoverished South had not also been a well-off European sexual predator.

Despite the aesthetic flaws and evasions in The Dream of the Celt, there is much to admire in it and much to be learned from it. Few septuagenarian novelists would have taken on the research necessary to retell Roger Casement's life, so we should be thankful that a writer of Llosa's standing accepted the task of re-presenting the horror — in the term another novelist of colonial excesses made infamous — of human darkness in twentieth-century Africa and South America.