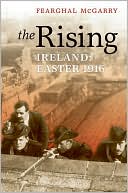 April 23:This weekend marks the 95th anniversary of the 1916 Easter Rising inDublin. The historic and legendary event began in chaos, and continued more orless so throughout the seven days of impassioned battle. The initial plan ofstarting the rebellion on April 23, Easter Sunday, was scuttled at the lastminute by the botched transfer of rifles and machine-guns from the German boatdelivering them to the Republican volunteers. Apart from not receiving thevital arms, the rebels were forced to delay mobilizing until Easter Monday. Thesubsequent miscommunication and confusion meant that the first attacks atDublin Castle and several other key locations lost the element of surprise, andthe insurrection seemed doomed long before the April 29th unconditionalsurrender—the tone of the first day Proclamation, posted about Dublin and readout at Republican headquarters, notwithstanding:
…Having organised andtrained her manhood through her secret revolutionary organisation, the IrishRepublican Brotherhood, and through her open military organisations, the IrishVolunteers and the Irish Citizen Army, having patiently perfected herdiscipline, having resolutely waited for the right moment to reveal itself, shenow seizes that moment….
The memoirs of those whomanned the Republican barricades tell stories of hopeless confusion andabounding courage. In Enchanted byDreams: The Journal of a Revolutionary, Joe Good describes his encounterswith the colorful Irish Volunteers leader Michael O'Rahilly—"The O'Rahilly,"as he wished to be known, and as he has gone down in history. Though a stalwartRepublican, O'Rahilly regarded the Easter Rising as premature and doomed, andhe had spent the night of April 23-24 travelling to units of the Volunteers withthe order not to mobilize. Once battle had begun, he fought fearlessly himself,famously explaining, "I've helped to wind up the clock, I might as wellhear it strike!" Good tells of O'Rahilly singing amidst the shelling oftheir General Post Office headquarters—a song of his own, "Thou Art NotConquered Yet, Dear Land." The O'Rahilly is last seen leading a suicidecharge against the British machine-guns that had the Republicans cornered; heis last heard from in this dying-breath letter to his wife:
Written after I was shot.Darling Nancy I was shot leading a rush up Moore Street and took refuge in adoorway. While I was there I heard the men pointing out where I was and made abolt for the laneway I am in now. I got more [than] one bullet I think. Tonsand tons of love dearie to you and the boys and to Nell and Anna. It was a goodfight anyhow. Please deliver this to Nannie O' Rahilly, 40 Herbert Park,Dublin. Goodbye Darling.
---
Daybook is contributed by Steve King, who teaches in the English Department of Memorial University in St. John's, Newfoundland. His literary daybook began as a radio series syndicated nationally in Canada. He can be found online at todayinliterature.com.