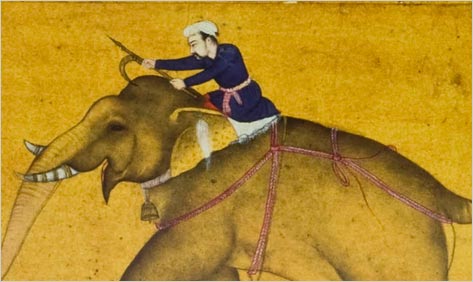 The distance between Lisbon and Vienna is 1,429 miles as the crow flies. As the elephant trudges, it is a more arduous expedition. How do you convey an Asian pachyderm from the Portuguese capital to the seat of the Habsburg empire? Very carefully, especially if the beast is a wedding present from King João III of Portugal to the Archduke Maximilian and his bride, Maria, daughter of Charles V, the Holy Roman Emperor. In a brief prologue to The Elephant's Journey, José Saramago, the Portuguese Nobel Laureate who died last June, explains that he learned about this extraordinary transport when, visiting Salzburg, he encountered a set of carvings commemorating the event. He was inspired to write a whimsical novel about how, in 1551, a four-ton elephant named Solomon but renamed Suleiman was brought from Portugal to Spain and then by boat to Italy and up through the Alps to Austria.
Though Hannibal transported elephants from Carthage to assist his assault on Rome, the enormous tusked animal was a rarity in 16th-century Europe. The Elephant's Journey is a book of wonder, not only in local astonishment at glimpsing an alien behemoth who consumes 150 kilograms of forage a day. The novel is a shaggy elephant story that uses King João's gift as a tale on which to hang ruminations on the mysteries of social rank, religious orthodoxy, consciousness, and language. This is historical fiction less intent, like Wolf Hall, on immersing us in a fully realized past, than, like The French Lieutenant's Woman, on playing with stereoscopic calibrations between past and present. Its nattering narrator ranges among past, present, and future tenses and between the 16th and 21st centuries. He fills in stretches of the journey that lack documentation with farfetched digressions, and he both commits and exults in anachronisms, pointing out that such words as "lilliputian" and "wagnerian" would not have meant anything in 1551. Nor did cinema exist, though he presents the story as a foreign film for which he provides the subtitles. The narrator advises us that he will tacitly substitute units of measurement current now for those contemporary with the Archduke Maximilian: "It will be as if we were adding subtitles in our own language to a film, a concept unknown in the sixteenth century, to compensate for our ignorance or imperfect knowledge of the language spoken by the actors. We will, therefore, have two parallel discourses that will never meet, this one, which we will be able to follow without difficulty and another, which, from this moment on, will remain silent." He pronounces his own ingenuity "An interesting solution."
As the second most important character in this story of an elephant, the narrator nominates Subhro, who was imported from India along with Solomon two years earlier to be the animal's mahout—i.e., handler. Sitting atop Solomon, Subhro commands a lofty vista denied either peasants or archdukes. But he is savvy enough to recognize that mahouts occupy a precarious perch in European society. When Maximilian—who also decrees that Solomon be known as Suleiman—finds the man's Bengali name too difficult to pronounce and changes it to Fritz, the foreigner formerly known as Subhro does not resist his fate. In Padua, the elephant kneels before the Basilica of Saint Anthony, and when the act is proclaimed a miracle, Fritz exploits popular credulity by selling Suleiman's sacred hairs. The scheme antagonizes Maximilian, who favors Martin Luther's heretical ideas, which an ecclesiastical council is scheming to suppress even as the elephant convoy passes through Trent.
The captain of the Portuguese cavalry that escorts the elephant from Lisbon as far as Valladolid carries a copy of Amadis of Gaul, the same ridiculous romance that inspires Don Quixote to undertake his preposterous exploits. When an Austrian contingent arrives to relieve the Portuguese troops, the captain's fantasies of valor almost precipitate a war. Saramago presents the ordeal of wolves, clergy, nobility, rain, and snow that Suleiman and Fritz survive as a mock epic, one that mocks even its own powers of mockery. Well into the journey, after many attempts to recount what happens along the way, the narrator admits that: "…it is simply not possible to describe a landscape or, by extension, anything else." The Elephant's Journey is a lesser accomplishment than The Year of the Death of Ricardo Reis (1986) and All the Names (1997). Yet, in sinuous sentences and dense paragraphs that are his literary signature, Saramago has left us with a witty, spunky trunk show.