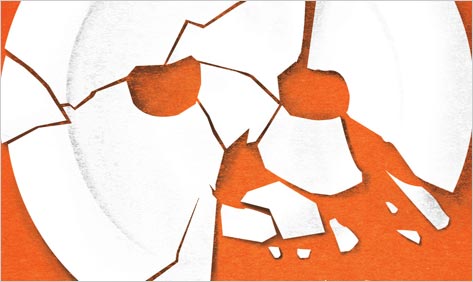 Derek Raymond is the pen name of Robert "Robin" Cook (1931-93), who was born into the British upper class but chose to live among addicts, gangsters, killers, and coppers. Cook ran rackets for London's infamous Kray Gang and, as Raymond, earning the title Godfather of British Noir with his four Factory novels — recently republished in the United States by Melville House — crime fiction so dark that it remains viscerally shocking.

The 1970s/1980s London that Raymond conjures is dank and claustrophobic. His protagonist, a nameless Detective Sergeant, works in the Unexplained Deaths Department of the Metropolitan Police in a building known as the Factory, handling cases passed over by more ambitious detectives. "…I can get on with it, as a rule, almost entirely on my own," the Sergeant explains in The Devil's Home on Leave, "without a load of keen idiots tripping all over my feet." There is something of Bertie Wooster in that genteel sentence. But if Raymond recalls Wodehouse — in his laconic wit, his comic timing, and his nostalgia for a vanished Britain — it is Wodehouse in Hades. "…I stepped back with a last glance at his face," the Sergeant says of the mutilated corpse at the heart of He Died with His Eyes Open. "They had left some of it, I will say, whoever they were. It wasn't a strong face, but one that had seen everything and then not understood it until it was too late."

The opening scene of that novel contains elements that become familiar, but never stale, in subsequent novels: a filthy street, a destroyed corpse, a showdown between the beat cop who moves "with a controlled restlessness, cherishing his fists," and the sardonic, fearless Sergeant. Here, an audio diary kept by the victim leads the Sergeant into the man's past, where an erotic entanglement reveals the foul truth behind the killing. Lean and relentless, He Died with His Eyes Open is a moody sketch of a society in which the spirit of Dunkirk has been replaced by the doctrine of Margaret Thatcher.

The Devil's Home on Leave, arguably Raymond's most chilling novel, is an intimate study of McGruder, an ex-soldier turned psychopath. In one of several conversations during which McGruder describes his own exceptional nature, the Sergeant suddenly realizes "what hell it meant not only to be a killer, but a bore. You think nothing of taking life; but your own existence fascinates you…" The novel's tight plot hinges on espionage and is enriched, as always, by Raymond's incidental descriptions — of an April evening, for example, ("The weather had turned sick") or a pompous suspect ("…everything looked honest in that room except him").

How the Dead Live takes the Sergeant into "what passed for rural Britain now," where the wife of an impoverished aristocrat has disappeared. As the novel develops from a curdled version of a country weekend mystery into a gothic nightmare, it takes us deeper into the Sergeant's desolate heart. "My conception of knowledge is grief and despair," he confesses, and we believe him. He loves his sweet sister, his incarcerated wife, and his dead child, and mourns his country. "The best went into the two wars and stayed there," an old soldier tells him. Only the dregs remain.

This theme, the fate of innocence in such a world, is monstrously portrayed in I Was Dora Suarez, the most complete distillation of Raymond's vision — more hallucination than fiction — which even the toughest readers may find unbearable.