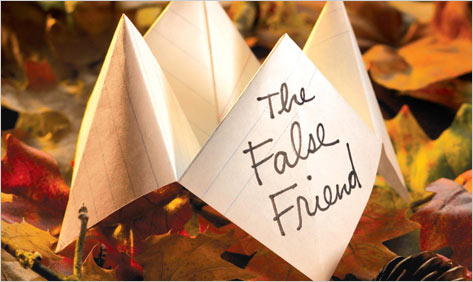 MylaGoldberg'sthird novel returns her to territory that might seem strikingly familiar,demographically speaking, to readers of Bee Season,her warmly receiveddebut novel published a decade ago. But,although both novels painstakingly construct the world of eleven-year-oldgirls, The False Friend's CeliaDurst and her best friend, Djuna Pearson, could not be more different thanEliza Naumann, the awkward heroine who finds deliverance from her drab place inher school and family by becoming a spelling bee champion. Celia and Djuna arequeen bees of a different sort, the movie stars of the grade school playground,with a fan club of awestruck hangers-on, who willingly defer to their tastes(pink and lavender, unicorns, Tretorn sneakers) and submit to their tests. Theyare, in a word, bullies, until a shocking intervention from the adult world outsidethe playground transforms Djuna from tormenter into victim: oneday, while walking with five girls near the woods, she disappears into a browncar and is never seen again.
Twenty-one years later,Celia, now 32 and living in Chicago, is struckby what she believes to be a repressed memorythat suggests things might have happened differently than she described, andthat she might actually hold some blame for Djuna's disappearance.The next day she books a flight back to her parents'hometown of Jensenville, a once-quaint town in upstate New York where thefamily-owned Victorians have now been turned over to drunken students, "thereal estate equivalent of inviting caterpillars into a tree."Though Celia comes as a supplicant, all her attempts to confess are muffled byher parents' impenetrable layers ofgood will, propriety, and stiff New Englandreserve. Goldberg captures perfectly the frustration of trying to talk aboutpassion and wrongdoing in a family where the parents find it unseemly to beseen in their pajamas in front of their children and a raised voice isconsidered "the vocal equivalent ofpublic frontal nudity." Huck, Celia'shandsome high school teacher boyfriend of nearly a decade, pines over Celia inher absence, while wondering when she might be willing to graduate from raisingdogs to raising children with him, but shares her parents'sunny view of Celia's basic goodness. "Theeleven-year-old girl she described to Huck was astranger. Only Celia recognized what she'ddone."
But, as further revelations unfold, the readercomes to understand that even Celia has yet to recognize what shehas really done, and to whom. She begins to grapplewith the depth of cruelty of which children are capable: "Theunadult mind is immune to logic or foresight, unschooled by consequence, andendowed with a biblical sense of injustice."Revisiting the territory of the past with Celia, Goldbergreminds her adult readers of the power of a claustrophobic girlhood friendshipthat "could only ever be achild's possession"because "only a child couldwithstand its stranglehold." But as she movesthrough the town, we see that Celia is unaware of the force field she oncecreated in the minds of others: the unattainable beauty, the friend who leftothers behind, the villain whose former victims still seek vengeance, the childwhose confidence boosts parental pride. These different sides, Goldberg seemsto suggest, might themselves reinforce Celia'sunconscious sense of the naturalness of her regal role, even as her nostalgicinfatuation with Djuna blinds her to the childhood crimes for which she cantruly atone.