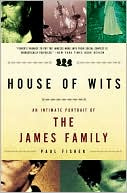 Henry James died on this day in 1916, aged seventy-two. In his correspondence over his last decade James refers often to his declining health, one letter describing "the black devils of Nervousness, direst, damnedest demons, that ride me so cruelly and that I have perpetually to reckon with." William James, never robust himself, attempted to counter Henry's "neurasthenic melancholia" as best he could; when William died, Henry felt the loss as his own death-blow, an "absolute mutilation."


In House of Wits (2008), his composite biography of the James family, Paul Fisher describes how William's death compounded Henry's "profound, essential solitude, with all its deep and tangled roots." In order to cope with his grief, James wrote two volumes of memoirs — A Small Boy and Others (1913) and Notes of a Son and Brother (1914). For the second book, James sifted through his father's and brother's letters, freely rewriting passages, says Fisher, to give posterity "a grander, more monumental account of his family history…in the elaborate and erudite style of his late novels."

After "a kind of stroke" in December 1915, there was further ventriloquism. James reported hearing in his Chelsea bedroom a voice not his own utter the famous "So here it is at last, the distinguished thing." In some of the correspondence he dictated to his secretary he was Napoleon, writing detailed plans to his dead brother and sister, also now Bonapartes, regarding the redecoration of their shared palace apartments. When on New Year's Day, 1916, James was given a real "dynastic" tribute, admission to Britain's Order of Merit, it came too late, says Fisher in his final paragraph:
The family tried to convey what Harry had earned — the kind of validation the exiled Jameses had pursued all their lives and that he himself had long craved. But in his last days, Harry was elsewhere.… Had he become again the twelve-year-old Harry, pinkened with the fever of malaria, bumping along in a nest of family luggage, bound for a distant blossom of orange blossoms? Or had he reverted to another Chelsea, one not torn by war, one not bleared by sickness, where he drank tea at Carlyle's house with his father, more than half a century before? His father's bright-eyed limp, the rustle of his mother's dress, were finally more real to him than the empires he had won."
---
Daybook is contributed by Steve King, who teaches in the English Department of Memorial University in St. John's, Newfoundland. His literary daybook began as a radio series syndicated nationally in Canada. He can be found online at todayinliterature.com.