Is it any surprise that Miranda July's first novel would come across nothing like a typical work of debut fiction? Like her collection of short stories, No One Belongs Here More than You, and her quirky films, You, Me, and Everyone We Know and The Future, The First Bad Man reads like the inner monologue of your oddball coworker — weirdly harmless or deeply disturbed, you can't quite tell.
Cheryl Glickman is a dowdy middle-aged woman who works for the Open Palm Foundation, once a successful business of instructional self-defense tapes for women but now mostly a storefront for a charitable organization of uncertain legitimacy. In her spare time, Cheryl fantasizes about Phillip, an older man on the board of the organization. Seeking relief from her "globus hystericus" (in layman's terms: a chronic lump-in-the-throat), Cheryl visits a chromotherapist, or color therapist. (The story takes place, after all, in California.) "I drove to the doctor's office as if I was starring in a movie Phillip was watching. . . . Who is she? people might have been wondering. Who is that middle-aged woman in the blue Honda?"
Deeply neurotic, Cheryl has developed a system for clean and easy living, both in her apartment and in the realm of her sexual fantasies. "Some people think it's really important to be in the moment with sex, to be present with the other person," she explains. "For me it's important to block out the person and to replace them, entirely if possible, with my thing." (Her thing is imagining she is Phillip, having sex with her and other women.) She's tormented by a baby she "lost" — a baby she met when she was six and continues to see in other people's babies. She's even given him a name, Kubelko Bondy. But Cheryl's expertly constructed life of neuroses comes to a crashing halt when her bosses ask her to take in their daughter, a trashy twenty-one-year-old named Clee.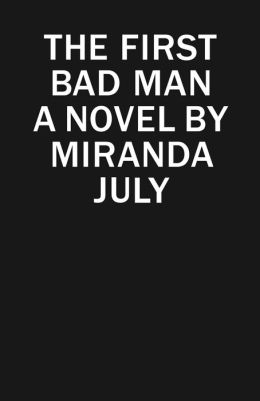 Clee is deeply disdainful of Cheryl, eventually to the point of physical violence, pinning her against the wall and body-slamming her into the floor. At first, Cheryl is terrified — but then the fighting becomes a routine that she comes to count on. The two women take to watching old self-defense tapes from the Open Palm Foundation as inspiration. "I'm the first man," Clee tells Cheryl, imitating a video in which a woman is attacked in a park. "The one in denim?" Cheryl asks. "The first bad man," Clee clarifies. However strange, the game is some of sort of a release for Cheryl, and she finds that her globus hystericus has completely subsided.
Fans of Miranda July's work will be accustomed to the unapologetic strangeness of this narrative. Those uninitiated may find the story simply too weird, even annoyingly so. But just when the reader's patience begins to wear thin, the book morphs into something new. Clee becomes pregnant, and as she does, The First Bad Man changes from a story of perversion and control to a tale of parental devotion. July approaches both ideas with the same lens — and it seems that the two subjects have more in common than meets the eye.
After a disastrous home birth, Clee and Cheryl become close as Clee's baby, Jack, recuperates in the hospital. But Cheryl knows this newfound connection is tenuous. "I was wondering if my life, the life in which I had a son and a beautiful, young girlfriend, could exist outside the hospital. Or was the hospital its container?" Clee, who initially meant to give Jack up for adoption, doesn't exactly rise to the duties of parenting, and instead Cheryl assumes most of the responsibilities. "His vulnerability slayed me, but was love the right word for that? Or was it just a very feverish pity?"
Cheryl's status as Jack's adoptive mother answers questions from the beginning of the book, about the mysterious Kubelko Bondy, among others. In the end this novel looks to questions about love and ownership: What constitutes love, and what makes someone a parent? The First Bad Man continues the maturation in July's work, in many ways taking off from where her 2011 film, The Future, left off. What began as forced awkwardness and cringe-inducing descriptions of Cheryl's sexual fantasies are in fact related to deeper, more mature questions about the nature of human behavior. With an artful combination of honesty and humor, July has shown us that perhaps our strangest selves aren't so strange after all.