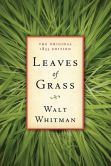 On this day in 1855 Walt Whitman registered the title Leaves of Grass with the clerk of the United States District Court, New York, clearing the way for the first edition, published seven weeks later. Over the next 36 years, Whitman would revise and add to the original twelve poems, publishing seven more editions, these now regarded as "the most brilliant and original poetry yet written in the New World, at once the fulfillment of American literary romanticism and the beginnings of American literary modernism" (Justin Kaplan, Walt Whitman).
Whitman was a printer by trade, and he helped set the type for the Brooklyn company that published the initial 795 copies of his poems. Whitman was also a believer in phrenology; the first edition of Leaves of Grass was sold only at the "Phrenological Cabinet" of Fowler and Wells, among "the busts, examples, curios, and books of that study."
Like Henry Ward Beecher, Ralph Waldo Emerson, Daniel Webster, and many eminent others, Whitman had his head read. Though not in Webster's skull range — said to be to the ordinary skull "what the great dome of St. Peter's is to the small cupolas at its side" — Whitman was sufficiently proud of his marks in "Sublimity," "Benevolence," etc., to list them in the second issue of his first edition at the end of 1855. Added, too, were nine reviews of his poetry, three of which were a direct application of the poem's famous opening, "I celebrate myself, and sing myself." Anonymously written by Whitman himself, the reviews went beyond both poetry and skull size, describing the poet as "of pure American breed, of reckless health, his body perfect, free from taint from top to toe, free forever from headache and dyspepsia, full-blooded, six feet high, a good feeder, never once using medicine, drinking water only — a swimmer in the river or bay or by the sea-shore."
---
Daybook is contributed by Steve King, who teaches in the English Department of Memorial University in St. John's, Newfoundland. His literary daybook began as a radio series syndicated nationally in Canada. He can be found online at todayinliterature.com.