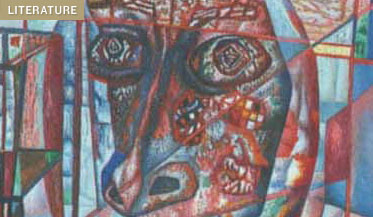 In April 1929, at the 16th Party Congress, the governing elite of the Soviet Union rubber-stamped the details of one of the most dramatic economic reform initiatives undertaken in the 20th century. The Five-Year Plan — deemed, in a fit of dubious strutting, to have been completed ahead of schedule, at the close of 1932 — mutated the USSR. from an agrarian to an industrial economy. Under the auspices of the plan, Total Collectivization was actualized, and once-privately held farms were seized by the state. Written during this period, which heralded the arrival of full-blown Stalinism, Andrey Platonov's The Foundation Pit critiques the forces that were set in motion to billow patriotic sentiment and corrode the nation's moral center.

Professionally, Platonov (1899–1951) was particularly well equipped to ascertain how this massive project affected communities outside of the metropolises. The eldest of 11 children born to a highly skilled railway laborer, Platonov (né Andrey Klimentov) worked as a land reclamation engineer after finishing his studies at the Voronezh Polytechnical Institute in 1924. Though he published a collection of poems, The Blue Depth, in 1922 and had begun establishing journalism contacts a couple of years before, his day job was of fundamental import; it brought him into contact with regions beset by drought and famine, and provided subject material for his writing. The hardships he witnessed abetted his conviction that, "In the era of socialist construction it is impossible to be a 'pure' writer."

As a young man, he was excited by the messianic pull of communism. In Soul — a collection of later writings that offers an extravagant introduction to this genius's work — there are a number of governmental do-gooders. "In the Motherland of Electricity," for example, the protagonist, whose background is redolent of his creator's, waxes:
We saw a light in the gloomy dark of a destitute and barren space… we saw wires hung on old wattle fencing; and our hope for the future world of communism, a hope essential to us in the difficult existence we led day after day, a hope which alone made us human — this hope of ours turned into electrical power, even if the only light it had lit so far was in some far-off little huts made of straw.

His attempt to supply electricity to a village is suspended by a boiler explosion — caused by the negligence of an inebriated attendant. As the ending of the story implies, Platonov is nothing if not heedful of the chasm between idealism and rude factuality. It's the distance between these posts that The Foundation Pit not only explores but consecrates.

Finished in 1930, Platonov's tale about a quixotic effort to build a housing complex for the proletariat inhabitants of a town, and the eradication of class foes in a neighboring village, was never published in his lifetime (an unexpurgated version of the text did not appear in the Russia until 1994). Read so far as the concluding sentence of the first paragraph — where it's mentioned that the book's central character, Voshchev, was fired for "thoughtfulness amid the general tempo of labor" — and you'll intuit why. When Voshchev confronts his superior, the wormhole the author detects in the government's ploy to remake the country is perceptible:
"What were you thinking about, comrade Voshchev?"
"About a plan of life."
"The factory works according to the prepared plan of the trust. If you mean a plan of your private life, you could have worked that out in the club…"
"I was thinking about a plan of shared, general life. I'm not afraid of my own life — my own life's no riddle to me."
"And what could you have achieved?"
"I could have thought up something like happiness, and inner meaning would have improved productivity."

The failure of those in authority to look upon their subordinates as anything other than pack mules is the key, universal concern of this book. Such obliviousness is distilled in a rebuke, which amounts to an ontological supposition, directed at Voshchev by a commissar known as "the activist": "Who exists in the world — the Party or you? Who is it that is?" The asininity of that rhetoric suffuses a text seeded with humor, irony, and oddities: a workaholic bear, a priest with a "foxtrot hairdo," and villagers whose most beloved possessions are their coffins.

Remarkably, this quirkiness extends beyond the scope of plot and characters. In contrast to cushiony prose of the later stories, the syntax of many of the sentences in The Foundation Pit is experimental. At times, it brushes against one's linguistic receptors like twigs, as when, by way of illustration, a man dotes on his wife, "Oh Olya, Olly, you darling dolly, your feel for the masses is simply gigantic! For that, let me organize myself close to you!" Obviously, language like this parodies the more unwieldy aspects of Soviet-style, Marxist lingo; but it also emblematizes the obscurantism at the heart of the ruling apparatus — which the author would have reason to cogitate on throughout his life. (In 1938, his son Platon was arrested and sent to the Gulag for improbable reasons.) Curiously, Platonov seems to have placed a wish that might annul the need for knotty language at the end of a vision beheld by the engineer of the building operation. "Once more he looked intently at this new city, not wanting to forget it or to be mistaken, but the buildings stood clear as before, as if around them lay not the murk of Russian air but a cool transparency."

Though Platonov was unquestionably disturbed by the horrific consequences of the Five-Year Plan (which led to mass starvation that resulted in at least six or seven million deaths in the Ukraine and southern Russia by 1934), he was not, understandably, an implacable dissident. Burdened by external pressures — like the need to secure work and non-temporary lodgings — he repudiated his earlier writings in a 1931 letter to Pravda, but remained persona non grata in a number of literary circles. As the Platonov scholar Thomas Seifrid notes in A Companion Guide to Andrei Platonov's "The Foundation Pit," the author's subsequent dramatic scripts (which went unstaged while he was alive) "combine fervent support for socialism as a remedy for the physical sufferings of the proletariat with scenes bordering the surreal and scarcely veiled irony toward the bureaucracy and propaganda filling the everyday life of Soviet citizens." With respect to the first part of Seifrid's observation, there are a variety of occasions in The Foundation Pit where characters display an aptitude for self-sacrifice and a passion for bettering the lot of future generations.

But what one is likely to recall from this bizarre and challenging book (this new edition marks Robert Chandler's second attempt to render it into English) are not the passages involving laborers volunteering to work longer hours, or the unexpected tears of a misanthrope for his fallen acquaintances, but something like this:
Only Voshchev stood weak and joyless, mechanically observing the distance. As before, he did not know whether there really was anything special about existence in general; no one could recite to him from memory a codex of universal laws, and events on the earth's surface were not charming him… Voshchev quietly disappeared into a field and, unseen by anyone, lay down there for a lie, content that he was no longer a participant in insane circumstances. Later he found the trail of the coffins that the two peasants had dragged away beyond the horizon… Voshchev set off with the gait of a man who has been defaulted out… In spite of an adequately bright sun, his soul felt unrequited…

Confronting iniquity, Platonov does not merely replicate the atrocities on the page, but encompasses them in a setting where the yearnings of humanity — for love, knowledge, prosperity, and congenial society — are never wholly occluded by the dark canopy of history. Indeed, as I made my way through his translated texts, I was surprised at how his stories might lend themselves to a project like Alain De Botton's How Proust Can Change Your Life. With that said, I'll conclude with a quote from the title story in Soul, which shows the writer, yet again, tackling the downside of dreams, "The song told how every human being has their own pitiful dream, some beloved insignificant feeling, that separates them from everyone else — and this is how the life inside us closes our eyes to the world, to other people, and to the beauty of the flowers that live in the sands in spring."