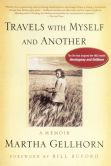 Martha Gellhorn was born on this day in 1908. The annual Gellhorn Prize is awarded to an investigative journalist whose work is in the Gellhorn spirit — tells "an unpalatable truth that exposes establishment propaganda," as the GP website puts it. In a 1939 letter to her friend, Eleanor Roosevelt, Gellhorn gives this "longwinded and confused statement of faith":
I hate what happens in these times, but ignoring it won't change it. And someday if I go on trying to know and understand, I may at last get it all in some sort of shape or order…and then maybe I could write something that would make just a few other people think too. If democracy is good, it must depend on the constant concern of the citizens. God knows I don't recommend concern as it would surely be more comfortable to be a cabbage…. Myself, alone, I have a wonderful and privileged life and am deeply aware every minute of my benefits and good luck. But the only way I can pay back for what fate and society have handed me is to try, in minor totally useless ways, to make an angry sound against injustice….
---
Daybook is contributed by Steve King, who teaches in the English Department of Memorial University in St. John's, Newfoundland. His literary daybook began as a radio series syndicated nationally in Canada. He can be found online at todayinliterature.com.