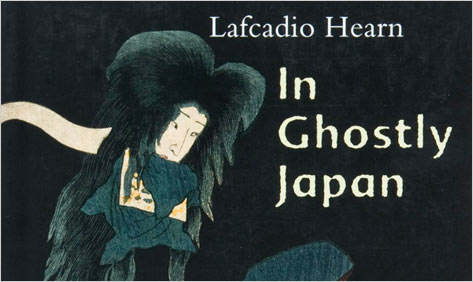 In his partly autobiographical essay "Nightmare-Touch," Lafcadio Hearn writes: "Now I venture to state boldly that the common fear of ghosts is the fear of being touched by ghosts—or, in other words, that the imagined supernatural is dreaded mainly because of its imagined power to touch." From here, Hearn recalls his own childhood night-fears:
So far back as memory extended, I had suffered from ugly dreams; and when aroused from them I could always see the forms dreamed of, lurking in the shadows of the room. . . . They were not like any people that I had ever known. They were shadowy dark-robed figures, capable of atrocious self-distortion,—capable, for instance, of growing up to the ceiling, and then across it, and then lengthening themselves, head downwards, along the opposite wall. Only their faces were distinct; and I tried not to look at their faces. . . .

Nevertheless the mere sight of those night-mare faces was not the worst. . . . The dreams always began with a suspicion, or sensation of something heavy in the air,—slowly quenching will,—slowly numbing my power to move . . . And all this signified only that the Nameless was coming,—was nearing,—was mounting the stairs. I could hear the step,—booming like the sound of a muffled drum,—and I wondered why nobody else heard it. A long, long time the haunter would take to come,—malevolently pausing after each ghastly footfall. Then, without a creak, the bolted door would open,—slowly, slowly,—and the thing would enter, gibbering soundlessly,—and put out hands,—and clutch me,—and toss me to the black ceiling,—and catch me descending to toss me up again, and again, and again. . . .
Halloween marks the official opening of ghost story season. From now until Twelfth Night (January 6), the long, dark evenings call for blazing fires, warming drinks, and such essential collections as Herbert Wise and Phyllis Cerf Wagner's Great Tales of Terror and the Supernatural and Michael Cox's The Oxford Book of Ghost Stories. Like the Fat Boy in Dickens's Pickwick Papers, the classic tales "[want] to make your flesh creep" rather than gross you out. Often their titles alone afford a suggestive frisson: Arthur Machen's "The Great God Pan," M. R. James's "Oh, Whistle and I'll Come to You, My Lad," L. P. Hartley's "A Visitor from Down Under." At other times, the opening sentences quickly announce we are entering the twilight zone: "Certain houses, like certain persons, manage somehow to proclaim at once their character for evil" (Algernon Blackwood, "The Empty House"); "Although every word of this story is as true as despair, I do not expect people to believe it" (E. Nesbit, "Man-Size in Marble"); "When misty winter dusk begins to settle on the railway station at Crewe the waiting-room grows steadily more stagnant. Particularly if one is alone in it." (Walter de la Mare, "Crewe"). Even in Shakespeare's A Winter's Tale a character famously whispers: "There was a man . . . dwellt by a churchyard," afterwards pausing to say that he shall tell the story "softly/ Yond crickets shall not hear it." Alas, that's all we're ever given. That isn't so for the numerous supernatural encounters related by Lord Dunsany's much-travelled clubman Joseph Jorkens:
The talk had veered round to runes and curses and witches, one bleak December evening where a few of us sat warm in easy chairs round the cheery fire of the Billiards Club. 'Do you believe in witches?' one of us said to Jorkens. 'It isn't what I believe in that matters so much,' said Jorkens, 'only what I've seen.'
While there's plenty of horror fiction being written these days, especially about sexy vampires and slavering zombies, the older classics emphasize atmosphere, pacing, careful diction, and a strangeness that builds to a final revelation that is partly left to the imagination rather than graphically described. A few days ago when I lay awake at 2 AM, listening to the things that go bump in the night, I passed a restless hour trying to settle on the 10 greatest ghost stories.
First was Vernon Lee's "Amour Dure," in which a young scholar grows obsessed with the painting of a Renaissance beauty of evil reputation, closely followed by Arthur Conan Doyle's poignant "The Captain of the Pole-Star." But after those particular favorites there are a score of contenders for the remaining slots: Sheridan Le Fanu's "Green Tea" and "The Watcher," Algernon Blackwood's cosmic "The Willows" as well as "Ancient Sorceries" and "The Wendigo," Arthur Machen's "The Novel of the White Powder," Oliver Onions's "The Beckoning Fair One," May Sinclair's "Where Their Fire is not Quenched," Charlotte Perkins Gilman's "The Yellow Wallpaper," W. W. Jacobs's familiar but still powerful "The Monkey's Paw," Robert Aickman's "Ringing the Changes" and "The Stains," and at least a half dozen of M. R. James's "ghost stories of an antiquary": "Casting the Runes," "Canon Alberic's Scrapbook," "Count Magnus," "A Warning to the Curious," and perhaps "Mr. Humphreys and His Inheritance."
To aficionados of the spectral, these are all familiar titles. But Lafcadio Hearn's folktale-like "kwaidan"—the Japanese word for ghost stories—aren't as well known as they should be. Often poetic and dream-like, though occasionally a little gruesome, the kwaidan are usually more haunting than frightening. Scattered through Hearn's many books about Japanese life and culture, they teach the reader to beware of any beautiful woman encountered on a quiet road at evening. These are eerie accounts of the hungry dead, of ghouls, sirens, and revenants.
Hearn (1850-1904) was himself—as the title of Jonathan Cott's biography has it—a "wandering ghost." The child of a Greek woman and an Irish surgeon-general, he was christened Patrick Lafcadio Hearn, the Lafcadio being an Englishing of his natal island of Lefkado. His parents soon separated and Hearn was brought up in Ireland, England, and France. By his late teens, though, the family's fortunes had gone downhill and the boy was shipped off to America. Here he nearly starved to death in Cincinnati, Ohio until he began to contribute articles to the local newspapers. These were strikingly vivid, often focusing on murder trials, hangings, and the hard, brutal life of the poor.
In physical appearance Hearn was unprepossessing, to say the least. Besides being only five feet three inches tall, he was blind in one eye and in the other—which was hugely bulbous and protuberant—strongly myopic. In photographs he always looks down or away from the camera. Nonetheless, in character Hearn was strong-willed and often combative. While in Cincinnati, he boldly married a former slave, even though miscegenation was prohibited by law. However, the marriage didn't last and, after a decade in the Ohio town, Hearn headed south to New Orleans. There, he was immediately seduced by the sloe-gin ways of the Crescent City—and by its cuisine and Creole culture. S. Frederick Starr, in a collection of Hearn's New Orleans writing, claims that the writer actually invented the idea of "the big easy," of New Orleans as a hedonist, carefree playground. To this day, scholars value his little booklets on Creole proverbs (Gombo Zhebes) and recipes (La Cuisine Creole).
While in New Orleans, Hearn also began to write ghost stories, albeit in a florid, highly decorated style reminiscent of the word-painting of the French decadents. Partly inspired by the example of Theophile Gautier—whose tales of the supernatural and grotesque Hearn translated under the title One of Cleopatra's Nights—the prose-poems of Fantastics bear such titles as "The Ghostly Kiss," "At the Cemetery," and "The Vision of the Dead Creole." Many feature "fatal women" or belles dames sans merci. "The Name on the Stone" begins this way:
"As surely as the wild bird seeks the summer you will come back," she whispered. "Is there a drop of blood in your veins that does not grow ruddier and warmer at the thought of me? Does not your heart beat quicker at this moment because I am here? It belongs to me;—and it obeys me in spite of your feeble will;—it will remain my slave when you are gone. You have bewitched yourself at my lips. . . ."
Eventually, Hearn pursued his fascination with black culture to Martinique, where he again learned the lingo of its people and vividly described their lives and culture. His Two Years in the French West Indies is, as so often with Hearn, a gumbo of personal experiences, portraits and vignettes, folktales, and photographs. The 1890 book—it lies before me now—includes conversations about zombies, reflections on island geography, transcriptions of Creole songs, and the superb supernatural tale "La Guiablesse"—about an irresistible seductress, told partly in Martinique argot. In it, Hearn depicts the tropic night with a comparably tropic lushness:
After the mighty heat of the day has charged all the blue air with translucent vapour, colours become strangely changed, magnified, transcendentalised when the sun falls once more below the verge of visibility. Nearly an hour before his death, his light begins to turn tint; and all the horizon yellows to the colour of a lemon. Then this hue deepens, through tones of magnificence unspeakable, into orange; and the sea becomes lilac. Orange is the light of the world for a little space; and as the orb sinks, the indigo darkness comes—not descending, but rising, as if from the ground—all within a few minutes. And during those brief minutes, peaks and mornes, purpling into richest velvety blackness, appear outlined against passions of fire that rise half-way to the zenith,—enormous furies of vermilion.
Such over-ripe but gorgeous prose would soon disappear from Hearn's style when, in 1890, he suddenly moved to Japan at the age of 40. Already back in New Orleans he had begun to show a nascent interest in Asia, having published Some Chinese Ghosts in 1887. In, for instance, "The Story of Ming-Y"—clearly reminiscent of Gautier's "Clarimonde"—a young teacher is enticed to the forest retreat of an enigmatic beauty, with whom he feasts, reads ancient poetry, and plays music. The couple spend the night together and every night thereafter—until Ming-Y's master and his father confront the boy and demand to be taken to the azure-tiled residence of his beloved. There's little surprise to the denouement, but "The Story of Ming-Y" is exquisitely told and very moving.
Still, Some Chinese Ghosts was a book derived from Hearn's reading. After he arrived in Japan he drew on his own experience of a living tradition of storytelling. Initially intending to produce a book about Japan similar to the one on Martinique, he instead fell in love with the culture and its people, took a job teaching English, soon married a Japanese woman, adopted a Japanese name (Koizumi Yakumo), and steadily produced a book a year about his adopted country until he died at the relatively young age of 54. In nearly all these volumes, starting with Glimpses of Unfamiliar Japan in 1894, he mixed together autobiography, essays (on insects, for instance, or Japanese toys and hairstyles), and retellings of classic Japanese folktales and ghost stories. Perhaps the best known collections are In Ghostly Japan, Shadowings, and Kwaidan, all available from Tuttle Publishing, the last also being the inspiration for a haunting Japanese film of the same title. Tartarus Press's typically handsome Night-Mare Touch, edited by Paul A. Murray (himself a Hearn biographer), gathers the best of the Japanese stories, as well as a selection of the earlier supernatural work.
"Of Ghosts and Goblins"—from Glimpses of Unfamiliar Japan—neatly serves as an introduction, a distinctly high-spirited introduction, to these later weird tales. Hearn and his companion Kinjuro are visiting the Japanese equivalent of a carnival, complete with haunted house. Above one black curtain hangs a "placard inscribed with the promise of a gift to anybody able to traverse the mysteries beyond without being frightened." To Hearn's unspoken question, Kinjuro says simply: "Master, the goblins are inside." Neither man manages to collect the promised gift. The pair then stop by another "queer exhibition" in which it costs "only one sen to go to hell, if the Master would like to go—'Very good, Kinjuro,' I made reply. 'Pay two sen that we may both go to hell.'"
Finally, the men attend a magic-lantern show, which reminds Kinjuro of a story that begins this way: "A long time ago, in the days when Fox-women and goblins haunted this land, there came to the capital with her parents a samurai girl, so beautiful that all men who saw her fell enamoured of her."
Scores of young men, many wealthy, wish to marry the girl, but she first insists on a test of their love. Strangely enough, after the test, about which the suitors are pledged to say nothing, all of them return in shock and many leave town. Eventually though, there appears "a samurai who had no wealth but his sword." The young couple dine together, then the girl retires briefly, reappearing at midnight robed all in white.
Out of the house they hastened while all the city slept. It was what is called oborozuki-yo—"moon-clouded night." Always upon such a night 'tis said, do ghosts wander. She swiftly led the way; and the dogs howled as she flitted by; and she passed beyond the confines of the city . . . By a new-made grave she paused and signed to him to wait. The tools of the grave-maker were still lying there. Seizing one, she began to dig furiously, with strange haste and strength. At last her spade smote a coffin-lid and made it boom: another moment and the fresh white wood of the kwan was bare. She tore off the lid, revealing a corpse within—the corpse of a child. With goblin gestures she wrung the arm from the body, wrenched it in two, and, squatting down, began to devour the upper half. Then, flinging to her lover the other half, she cried to him, "Eat, if thou lovest me! This is what I eat!"

Not even for a single instant did he hesitate. . . .
This is, I won't say how, a story with a happy ending.
That's not true of most of these Japanese chillers. In "A Passional Karma" a young man named Shinzaburo grows infatuated with a young woman named O-Yoné who, because they are unable to see each other, reportedly dies of yearning for him. But, then, late one night Shinzaburo glimpses O-Yoné and her maid on the street outside his house and invites them in. Everyone is amazed: the two women had heard that Shinzaburo was dead, just as he had heard the same about them! How absurd! In due course, the two young people consummate their love. Alas, Shinzaburo should have paid closer attention when the women told him that they resided in "a very small house."
In the horrific "Of a Promise Broken" a husband vows to his dying wife that he will never marry again. But, bending to pressure from relatives, he eventually weds a young girl. Seven days after the wedding, the new wife is home alone when a hideous creature appears in the doorway, a creature without eyes who speaks "without a tongue": "Not in this house,—not in this house shall you stay! Here I am mistress still. You shall go; and you shall tell to none the reason of your going. If you tell HIM, I will tear you to pieces." Of course, the husband—to his later regret—foolishly reassures his terrified bride that it was all just a bad dream. In the shocking (and disturbingly sexual) "Ingwa-Banashi" another dying wife of a great lord asks to see 19-year-old Yukiko, who she "loves like a sister" and who she expects will take her place once she is gone. After some sweet words to the pretty young concubine, the older woman asks to be carried into the garden to view its flowers for a last time. Yukiko bends over to hoist the dying wife onto her back. But almost immediately the old woman reveals an uncanny strength and slips "her thin hands down over the shoulders, under the robe, and clutched the breasts of the girl, and burst into a wicked laugh. 'I have my wish!' "—and immediately falls forward dead upon the crouching girl.
But the horror is only beginning: "The attendants at once attempted to lift the body from Yukiko's shoulders, and to lay it upon the bed. But—strange to say!—this seemingly easy thing could not be done. The cold hands had attached themselves in some unaccountable way to the breasts of the girl,—appeared to have grown into the quick flesh." There's worse to come for poor Yukiko.
Hearn published a number of very short stories, and one, "Mujina" from Kwaidan, resembles a summer campfire tale. Late at night, a man glimpses a woman near a moat, weeping into her kimono sleeves, apparently on the verge of suicide. He pleads with her to stop her crying and offers his help. After much entreaty, she finally "turned around, and dropped her sleeve, and stroked her face with her hand;—and the man saw that she had no eyes or nose or mouth,—and he screamed and ran away." He runs and runs, until he sees the bright lantern of a soba-seller. What is the matter? asks the noodle peddler. Robbers? No, the terrified man replies, "I saw a woman—by the moat—and she showed me . . . Ah! I cannot tell you what she showed me!. . ."
"'Hé! Was it anything like THIS that she showed you?' cried the soba-man, stroking his own face—which therewith became like an Egg . . . And, simultaneously, the light went out."
Happy Halloween!