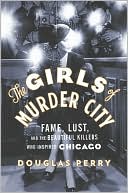 I must sternly advise readers not to approach Douglas Perry's The Girls of Murder City without being aware of the risks they run. Like the hero of Jack Finney's Time and Again, who steeped himself so intensely in vintage surroundings that he became unmoored in time and slipped back to Victorian-era New York, so too might the unwary readers of Perry's book find themselves sucked willy-nilly back down the decades to 1920s Chicago, as a result of Perry's incredibly visceral, sensual and hypnotic recreation of that era. Such a pleasant yet disorienting fate happened to me, I swear it. The man is simply a wizard of words, and must be approached with caution.
Perry shines his interrogator's spotlight on a longish moment in that Prohibition-fraught, flapper-rich decade when, in the words of a Chicago cop, the ladies "were bunching their hits at this time." In other words, an unusual spate of murders committed by women had occurred, the press and public were going gaga, and nothing would ever be the same. Perry's ambitious remit: to recreate a whole era and to delineate with lyrical precision the fascinating characters, high and low, connected with this short grisly epoch. It is a task he handles with jaunty spirits, journalistic verve and cleverness, and a hardboiled sangfroid. He is writing, after all, about the same period that birthed Black Mask magazine and all the ground-breaking noir writers associated with it. Consequently, we get great sentences from Perry like these:
"Just pleasantly buzzed, as usual, the kind of tingling warmth that held you like a new mother."

"…boredom trailed her like an annoying corgi, always there, underfoot."

"After a couple of hours in the saddle, her thighs and buttocks glowed, radiating from the inside out like a clay pot right out of the fire…"
Hot-cha-cha! If murder isn't far behind those radiant buttocks, Robert Leslie Bellem wasn't the father of Dan Turner.
Moving effortlessly through assorted milieus—the worlds of journalism, high society, finance, commerce, gangsters, politicians—Perry smartly follows one pole star: the reporter Maurine Watkins, whose coverage of several of the more high-profile murders launched her career and resulted in her writing the play Chicago, the source of the famed Broadway musical. Watkins could have been invented by Ben Hecht, and as an old-fashioned, smalltown girl, she serves as the perfect foil to the "gin and gun" atmosphere of Chicago. A mordant observer of the urban scenery ("Murderesses have such lovely names," Watkins coolly remarked), Watkins was talented enough to attract readers without stooping to yellow journalism.
Perry nimbly handles issues of racism, feminism and class struggle without employing a truncheon. He exudes immense sympathy for this vanished time, and implicitly raises a vital question. Has the weird glamour and hard-living vitality gone out of this nation? Are we today sanitized and groomed and leashed within an inch of lives, both mentally and experientally? No one wants to have a burst of female-perpetrated murders again, just to prove that the human spirit remains unconquerable and unpredictable. But damn, what a lusty, feisty, intriguingly unique bunch of people our ancestors were!
–PAUL DI FILIPPO
---

Paul Di Filippo's column The Speculator appears monthly in the Barnes & Noble Review. He is the author of several acclaimed novels and story collections, including Fractal Paisleys, Little Doors, Neutrino Drag, and Fuzzy Dice.