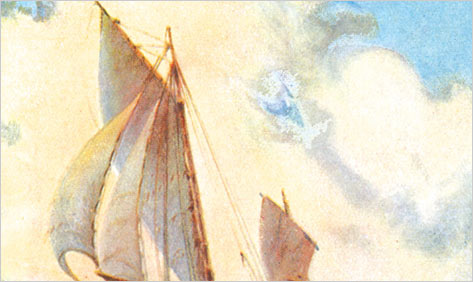 "Ihad resolved on a voyage around the world, and as the wind on the morning ofApril 24, 1895, was fair, at noon I weighed anchor, set sail, and filled awayfrom Boston." With these words, Captain Joshua Slocum, having spentthirteen months rebuilding the derelict hulk Spray into a seaworthy craft, set out on one of the greatestadventures ever recorded—sailing solo around the world. Even today with GPS,satellite phones, email, corporate sponsors, and coast guards ready to rush tothe rescue, this is no minor feat. Slocum was the first to do it, with just asmall tin clock (whose cracked face got him a fifty-cent discount on its $1.50sale price) and a sextant as his sole navigation devices.
Nor did he make a simplecircumnavigation. Slocum sailed from Boston to Gibraltar then south, huggingthe African coast, turning back across the Atlantic through Cape Verde toPernambuco along the South American coast. He passed though the Straits ofMagellan and across the vast Pacific Ocean to Australia. From there, Slocumsailed the Indian Ocean, rounded the Cape of Good Hope, crossed the Atlantic athird time, and arrived in Newport, Rhode Island on June 27, 1898. Alone in a37-foot sloop, he had sailed 46,000 miles almost entirely by dead reckoning.
The account he deliveredof the voyage, Sailing Alone Around theWorld (1900), is one of the masterpieces of nauticalwriting. It features a direct and lyrical style that is inviting from the veryfirst words. Arthur Ransome, whose "Swallows and Amazons" sailingseries are among the best children's literature, said, "Boys who do notlike this book ought to be drowned at once." I nod in agreement. Sailing Alone is one of those books that,if placed in your hands young, will provide a lifetime's perfectenjoyment—rereading only deepening the contentment found therein—Kim is another. As is Treasure Island. The 39Steps and Pride andPrejudice, too. SailingAlone is all the rarer in this company for being nonfiction.
Andthe quarter it comes from is an unexpected one. Slocum (1844-1909) had scarcelyany formal education when he escaped the drudgery of making leather boots forthe sea. Yet, he was a devoted reader and as a writer had a confidence andunworriedly reflective style that, I suspect, came from his decades as a seacaptain, which was the nearest thing to being god most men might ever know. Hisdescription of his father strikes me as near-perfect: "My father was thesort of man who, if wrecked on a desolate island, would find his way home, ifhe had a jack-knife and could find a tree. He was a good judge of a boat, butthe old clay farm which some calamity made his was an anchor to him. He was notafraid of a capful of wind, and he never took a back seat at a camp-meeting ora good, old-fashioned revival."
It is also, as Idiscovered in Geoffrey Wolff's The HardWay Around: The Passages of Joshua Slocum, a fair description of Slocum himself. In May1871, the 27-year-old captain—already qualified as a master mariner for morethan two years—departed with his wife and a crew in the 100-foot bark Washington to fish Chinook salmon inAlaska's Cook Inlet. Able to work day and night due to the midnight sun, theparty also had a fine view of their boat being wrecked when a gale snapped itsanchor lines. Slocum kept the crew fishing and set to building a boat thatcould carry him to Kodiak Island, 200 miles distant. When a U.S. governmentship offered them rescue, Slocum accepted only for his wife, as the salmoncatch would have had to be abandoned. He made his journey, hired Russiansealers, and returned to take the crew and salmon to San Francisco. Wolff, whocalls the whole adventure a "tamer" version of "Shackleton'sheroic rescue in 1915-16 of his crew from Antarctic ice," notes that "addingthe loss of the Washington to hisother expenses, the vessel's owner sold the fish and pocketed a profit."
A fine feat, and typicalof a man who later built a 35-foot canoe and sailed his family 5,000 miles backfrom Brazil after their boat was wrecked on the coast. Wolff manages a rarefeat himself: writing a whole book about a minor classic that doesn't bury it,or exaggerate its importance. The HardWay Around is a brisk evocation of Slocum's world. Wolff characterizes allthe phases of Slocum's career from a wide-reading in the nautical history ofthe era: catching the nature of life before the mast, of the rapid advancementallowed to able seamen, of life afloat for a family, of the constant threat ofdeath in almost every aspect of merchant shipping, and of the tremendouschanges wrought by steam.
Whatdoesn't come clearly through SailingAlone is that Slocum had been thrown ashore in middle-age by the end of theage of sail. Like his subject, Wolff is prone to breezing past the duller days.He also finds endlessly interesting subjects. I had always assumed that theseaman's life in the age of the clippers and the Grain Race was a narrow oneintellectually, yet Woolf notes "young sailors—those with open eyes andears—learned to cook and eat foreign food, to wear and appreciate foreignclothes, to play foreign games, to understand the singularity of the world'speople." And, of course, he's right. A sailor who avoided the dangers ofdrink and brothels had a life far richer than the farmers or fishermen ofSlocum's native Nova Scotia. It was a life that could produce a singularliterary figure like Joshua Slocum.
SailingAlone is one of the best booksever written about the call of the running tide. On its last page Slocumboasted, "No king, no country, no treasury at all, was taxed for thevoyage of the Spray, and sheaccomplished all that she undertook to do." Geoffrey Wolff has done thesame. His every page drives us back to a book he rightly characterizes in hisfirst line as "a tour de force of descriptive and narrative power."Read Sailing Alone. Then read The Hard Way Around. You'll want toreread Sailing Alone. I can think ofno greater praise for Geoffrey Wolff.