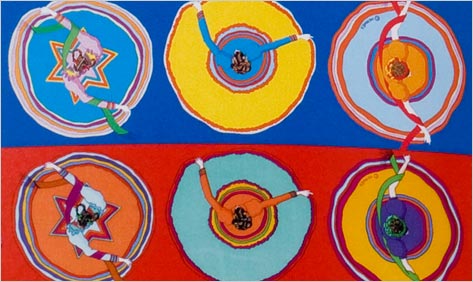 They look like cupcakes from afar—a neat array of vibrant cupcakes. But, on closer inspection, Belles du Mexique reveals itself as an overhead shot of Mexican dancers twirling. The women hold up their skirts, which form circles of bright color, and some let their scarves flow behind them. In the middle, a central dancer spins inside a patterned square while being serenaded by a Mariachi quartet. The musicians are just the circles of their sombreros, with only the occasional hint of a multi-colored shawl or an instrument peaking out. It's a brilliant and whimsical design, done in 2007 by Virginie Jamin for Hermès as one of its signature scarves.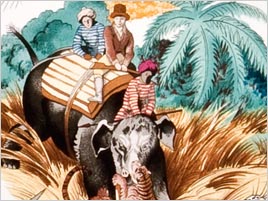 The Hermès scarf remains a signal bit of luxury in our consumptive age. The first was made in 1937 on the centennial of a company that began as an elegant saddlery. More than 2,000 have been produced and they've been worn regularly in public by some of the world's most photographed women, from Queen Elizabeth to Grace Kelly to Jane Birkin. The classic scarves depict luxurious horse regalia (Brides des Gala and Mors à la Conétable), hunting scenes (Chasses exotiques), and arrays of intricate bibelot (Les Cles and Passementerie).

But there are also bright celebrations of world cultures (Chasse en Inde and Perles du Kenya) and stunning abstractions. The superb 2003 Méditerranée captures in a very Milton Avery-like way the essence of that sea—white lines running left to right on a single block of color and thinning as they recede into the horizon. In recent years, a meta-scarf trend has even sprung up, with Hermès' designers making scarves about scarves: 2006's A Cheval sur mon carré, is a horse, the company's symbol, shaped out of overlapping scarves.
The Hermès Scarf: History and Mystique is a beautifully produced gathering of these silkscreened riches. Though a delight to leaf through, it must be described as a disappointment. Nadine Coleno's text borders on gibberish—"Elegance was expressed in ease of wear and luxurious materials, in harmony and balance, and in discretion that would tolerate neither tedium nor affected uniformity"—and she fails to give an adequate history of her subject or to detail the intricate production process. I had particularly hoped that the book would bring to life some of the designers behind the works, figures like Philippe Ledoux and Hugo Grygkar, but they remain but names in a list. There is, moreover, no discussion of the endlessly evolving aesthetic of the scarves: the size and materials have changed over time as have the basic colors. There can be little doubt, for instance, that Jean-Louis Dumas and his wife, Rena, effected a wholesale change in the coloring of the scarves in the years after he took over the running of the company in 1978. (The recently deceased Dumas was the fifth-generation of the family to run Hermès (1978–2006) and responsible for turning it into an international mega-brand.)
Yet, if the book is a lost opportunity, it reproduces more than 300 scarves in brilliant color and can only be called a feast.