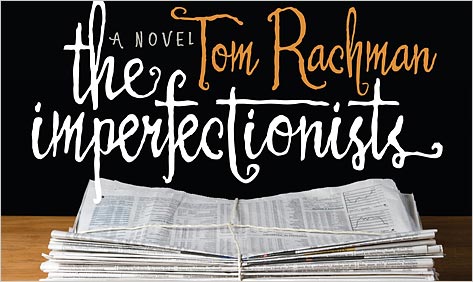 "Write what you know" is an unattributed admonition that has brought forth many a bumper crop of tight-leashed, tarmac-trapped first novels. Tom Rachman must have had that dire warning against over-excursioning in view at all times, tattooed on his screen saver.
Rachman is a journalist. He is, in fact, a graduate of the Columbia School of Journalism, has served as a foreign correspondent for the Associated Press, and worked as an editor at the International Herald Tribune. In his debut novel, The Imperfectionists, there are no unearned imaginative flights, no indulgent Icarus risks. He reports scrupulously on a world he knows: the messy lives and staccato decline of journalists and journalism, and their reciprocal failures, flaws, and fulminations. Far from perfect — Rachman has given himself an eponymous out — it is a solid, smart book of humbly restrained ambition.
The Imperfectionists weaves together the birth, tiny peak, and lurching demise of an English-language newspaper in Rome and the self-destructive empire of the journalists who mess up their lives as they grind out their stories — all of them bound by a common, fatal romantic attachment to the craft. Indeed, it's a shared world of immolation; the newspaper, till the end, never has a website.
The paper, which is unnamed — allowing it to function both as a character and a symbol — was founded in the middle of the last century by Cyrus Ott. Ott, a vaguely Charles Foster Kane-ish industrialist, is somehow inspired to create "an international English-language newspaper. Based in Rome and sold around the world." His motivation is revealed at the end, but we have our earlier suspicions.
The paper's history, and the Ott family's saga, are told through a series of quick, italicized introductions to each chapter. It's a device that gives the novel a supple tension; stitch them all together and they represent a narrative through-line of the newspaper's life, beginning in 1953 and ending in 1997, when the paper is put out of its decaying misery and majesty.
Following each of these somewhat breathless set-pieces are chapters that roll out the newspaper's cast. Each of them is titled with a headline that speaks in newspaperese, with a corresponding byline. There are 11 of them, clever conceits like "Bush Slumps to New Low in Polls" by Paris Correspondent Lloyd Burko, and "The Sex Lives of Islamic Extremists" by Cairo Stringer — Winston Cheung.
The risk of a novel about journalists is that there are so many default archetypes that the characters end up as clones, barely if at all genetically modified. Rachman takes the bait, and we've got a procession of biscotti-cutter characters. Spouses cheat, dreams are beached. No one gets what he wants; careers that are loathed end up with a shimmery beauty only when they are lost or threatened. There's the burned-out Paris stringer Lloyd Burko, whose younger wife seeks sexual companionship with their neighbor. There's the naïve stringer, the rogue foreign correspondent, the penny-pinching number-cruncher.
And there's the corpulent copy editor, Herman Cohen, who has served in every editorial role over 30 years and takes perverse satisfaction in compiling an internal document called "Why?" "a monthly internal newsletter in which he decants his favorite blunders from the paper." Rachman, like many others, is a designated mourner of lost standards. Herman loves the paper despite, or perhaps because of, its imperfections; I wish Rachman rose to that noble sentiment better than this flat book-flap prose: "To his mind, it was the publication that a weathered novelist or a spy might fold under his arm."
Many of these chapters are glumly predictable and lazily written. Descriptions are largely nouns on the move: "bicycles huddle," "weeds clamber," "light slices." Rachman's character descriptions are mostly 2×4 thuds. "No matter the time of day, Menzies is at his desk. The man has nothing in his life but news."
Rachman also struggles with the omniscient narrator technique, injecting value judgments like a medieval priest bestowing indulgences. He has a fondness for the cheap aphorism: "If history has taught us anything … it is that men with mustaches must never achieve positions of power." His dialogue can be clumsy and veer into too easy wit: "Hardy is on a diet that started, roughly, at age twelve. She's thirty-six now and still dreaming of butter cookies."
But sometimes Rachman finds his voice and stretches. Arthur Gopal, an obituary writer, journeys to Switzerland to interview a dying feminist icon. While he's away his young daughter is killed in an accident. The doppelgangers of death are beautifully handled. As is Gopal's awkward return to the newsroom and the curious comfort its sad spiral gives him: "Several cubicles are empty nowadays, the former occupants long retired but never replaced, their old Post-its fluttering whenever windows open." Abandoned Post-its. Write what you know.
Eventually, Gopal's long and loving obituary is shrunk to a column because of an editorial decision to feature a novelty story — the death of a serial exaggerator. "World's Oldest Liar Dies at 126" is the sadly arch title of the chapter, at once mocking tabloidism while underscoring the tragedy of Gopal's own experience with life cut short. It gives me hope that Rachman can learn to live with the elliptical, to bury the lede.
Meanwhile, these personal agonies track against the parallel writhing of the newspaper industry. This won't be news to most readers, but Rachman treats it like a business magazine feature. "Newspapers were spiraling downward," he writes. "Competing entertainments abounded, from cellphones to video games, from social-network sites to online porn. Technology was not merely luring readers; it was changing them." Rachman, meet Pound: Old Ezra wrote "Literature is news that stays news." Not "Literature is old news that stays old."
Over time, the Ott family starts to fall apart. Its reputation is sullied by corruption, fraud, toxic spills. Money grows tight. Eventually, they send Oliver Ott, the fragile and weak-kneed grandson of the founder, who was useless in any of the family's other holdings, to run the newspaper. But Oliver never shows up for work, preferring to rattle around as a kind of Oscar Wildean dilettante in the long-shuttered mansion where Cyrus had lived and died. Oliver's comfort and confidante is his beagle Schopenhauer, and he speaks directly to him, the soliloquies serving as clumsy narrative exegesis. In one scene, the genetically pallid heir, who has never read a single issue, uses the paper as a placemat for his pet. "Once the plate is clean, Oliver scrunches up the paper, specked with gravy and goblets of gristle." There's a lot of this dramatic overkill.
Finally, subvention is no longer possible. The Ott board forces Oliver to show up and tell the employees the ride is over. He trembles at the thought and brings his dog for companionship, although he leaves him outside the conference room. The best he can muster is "I'm totally useless at this sort of thing — they shouldn't have given me the job in the first place." When he's finished with his task, he rushes out of the room, only to find a limp Schopenhauer, his neck twisted by an embittered employee.
Like the crawl in a movie that is "based on a true true story," the final italicized chapter tells us what happens to all the characters. Everyone is scattered — to a lobbying job, to primate research, back to journalism in America, to international finance. Arthur Gopal "to everyone's surprise … got the most prestigious job, moving to New York as a reporter for a major newspaper." The device is too tidy by far; nothing in this book is left to the imagination.
The Imperfectionists never surprises. By the time Oliver stumbles upon a letter which reveals that Cyrus Ott really started the newspaper because he was in love with Betty — one of the two editors he hired to run it — our expectations have beaten him to the discovery. When a canned copyeditor seduces the CFO who fired him, simply to humiliate her, she's the only one who doesn't see it coming.
And Rachman could have made more of the period he chose. Rome in the late 50s and 60s is the city of Fellini and Pasolini, of cultural chaos, post-war liberation and crushing poverty. But this ferment and creativity are absent from The Imperfectionists — it's a strangely sanitized Italy of quaint restaurants, streets, and bars.
The Imperfectionists is a novel written by a newspaperman for people who love newspapers. It is forthright and buttressed; written by someone who gets the lede and the nut graph. It doesn't really truck with post-modern contrivances. But despite its, yes, imperfections — and they are not insubstantial — there is something unexpectedly moving about this novel. It took me a while to figure out what that is. Rachman cares about his broken-down, dream-busted characters. He actually loves them and grieves for them in an unabashed way that is totally unironic, uncool, uncontemporary. And he loves his profession, too, which is dying as irremediably as Schopenauer. He cherishes the fading, radiating sound waves of impact that a certain kind of journalism once had. The thump-jump-thump of the manual typewriter, scotch neat, nailing an exclusive: these are Rachman's idea of sweet. In one of his better paragraphs, he writes straight out of his uncontained omniscience:
Admittedly, the paper's readership is only about ten thousand people nowadays, but at least they are passionate. And the postmarks come from all around the world, which is heartening. For many… the paper is their only link to the greater world, to the big cities they left, or the big cities they have never seen, only built in their minds. The readers constitute a sort of fellowship that never meets, united by loved and loathed bylines, by screwed-up photo captions, by the glorious corrections box.
Tom Rachman has written an obituary disguised as a novel.