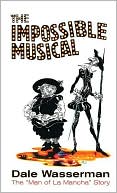 Man of La Mancha opened in New York City on this day in 1965, running for the next five and a half years and earning many awards and accolades — among them, the rarely bestowed "A Metaphysical Smasheroo!" (from the Life magazine review). The musical started as a 1959 teleplay by Dale Wasserman; when he decided to rework the teleplay as a musical, he tried to hire W. H. Auden to do the lyrics. In The Impossible Musical, his 2003 memoir, Wasserman describes their falling-out as a clash of conflicting visions — Wasserman's more inspiring and audience friendly, Auden's truer to the Cervantes original, which ends with the hero disheartened and repentant. The beginning of the end of the collaboration came when Auden submitted his lyrics for the "Impossible Dream" song that Wasserman had requested:
"Your words are existentialist," I argued. "They are also fatalistic."
"They are the proper words for Don Quixote."
"They are not for Dale Wasserman."
Still we might have reconciled our differences but for the play's finale. Here Auden was adamant: Quixote must repudiate his quest and warn others against like folly. I said no, in thunder.
"Wasserman, the man was mad."
"It's a madness we happen to need."
"That is arrant romanticism."
"I know, but it happens to be my thesis."
Wasserman's life story has its own "impossible dream" elements, given that he was orphaned very young and was a train-hopping vagabond for much of his adolescence:
As to awards, I have received the usual quota of Emmys, Tonys, Ellys and Robbys and, for all I know, Kaspars and Hausers. I'm unsure of the number because I don't attend awards ceremonies and so receive the knick-knacks by mail if at all. Ah, yes, one exception: when the University of Wisconsin offered an Honorary Doctorate, I did appear in cap and gown to address the audience in the football stadium at Madison, because a scant quarter-mile from where I was being Doctored, I had hopped my first freight at the age of 12. Irony should not be wasted.
---
Daybook is contributed by Steve King, who teaches in the English Department of Memorial University in St. John's, Newfoundland. His literary daybook began as a radio series syndicated nationally in Canada. He can be found online at todayinliterature.com.