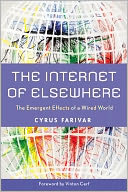 There's nothing like a good shot of clear-eyed, upbeat globalism to shatter the dreary national myopia and restore our sense of wonder about what really is an amazing contemporary world. Cyrus Farivar's new book provides just such an injection of multicultural journalistic insight. His thesis is remarkably simple and stated clearly in his captivating introduction: "The most fascinating examples of internet-related changes are not happening in Silicon Valley, but rather in far-off, forgotten or overlooked corners of the globe." To illustrate his point, Farivar fixes on four places: South Korea, Senegal, Estonia and Iran. And before you can say "optimized link state routing protocol with frame relay packet switching," he's off!
Our first stop is South Korea, a nation where superficial similarities to the USA and other developed countries conceal surprising core differences. South Korea is the most plugged-in nation on the planet, and it achieved that status in a much shorter span that what other nations needed to reach lesser peaks. Unique cultural attitudes yoked to a particular flavor of democracy and capitalism are responsible, and Farivar explicates these qualities with meaty precision. He chooses to thread the beads of his narrative along the life of one essential man, IT expert Chon Kilnam, who seems to have been at the center of every development of note. Farivar's portraiture of Kilnam and his protégés is vivid and enlightening.
Our next destination, Senegal, presents the flipside of internet sophistication. Again using one central personage as his anchor, the visionary Amadou Top, Farivar limns several decades of high hopes and enthusiasm followed by disappointment and squandered potential. Despite having the first cybercafé on the continent outside South Africa, Senegal–where "paved roads disappear into the natural sand like a foot being buried into a slipper"–remains frustratingly distant from the benefits of the web.
The third chapter–Estonia–radiates a zest, intimacy, and novelistic ambiance derived from Farivar's personal friendship with Veljo Haamer, the youngish entrepreneur at the nucleus of events, and from Farivar's adoption of Estonia as his home away from home and internet laboratory. A small nation no bigger than New Hampshire and Vermont combined, Estonia nonetheless has pulled itself up from a post-Soviet basement to the penthouse of internet usage, having invented Skype, the famous internet phone service, along the way. Farivar teases out the factors involved (Estonia had an astonishing 96 percent literacy rate early on), and shows us that size is not important when it comes to the web.
The final chapter turns its gaze to Iran and is necessarily more diffuse, as Farivar strives to capture the essence of the explosion of dissident blogs. There's no main hero this time, just many peers, though abused blogger Omid Memasrian sustains a complete arc of political rise, fall, and recovery. This chapter tugs at the heartstrings, as we see how vitally important are simple privileges that those in freer countries take for granted. "'I didn't know what the internet was, but I knew that one day I would have it…' Sometime in the late summer of 2001 [she] finally learned how to send e-mails."
Farivar's conclusion is guardedly hopeful about the possibility of a fully wired and empowered planet, with some leadership from the USA. "It is notable that the United States is finally taking a much more sophisticated view of how the internet can be used for good in the world." Surely this book is an important step toward that goal.
---

Paul Di Filippo's column The Speculator appears monthly in the Barnes & Noble Review. He is the author of several acclaimed novels and story collections, including Fractal Paisleys, Little Doors, Neutrino Drag, and Fuzzy Dice.