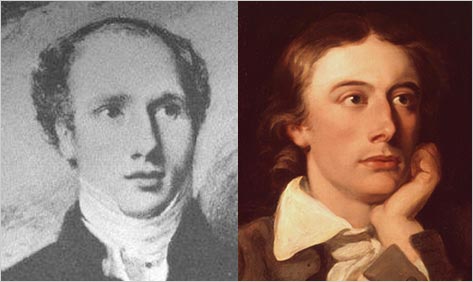 The Keats Brothers, by the Stanford University professor Denise Gigante, is an account of the lives of the English Romantic poet John Keats and his brother George — yet it's also a love story of sorts. In her preface, Gigante advises readers to "prepare for adventure." Although that may sound like overselling, it isn't. Her book, with its transatlantic sweep and epic narrative — including cameos from John James Audubon, Emerson, and more — offers a detailed study of the stunning vicissitudes of the brothers' lives. Even those familiar with the poet's timeline will see it anew through the lens of this intense sibling relationship.

John was the oldest of four siblings (another died in infancy), but it was his vital bond with George, two years his junior, that sustained him and nurtured the poetic work that began to emerge in his teen years. As Gigante notes, until now George Keats has played a peripheral role in biographies of his famous brother, or he has been portrayed as a cruel, self-absorbed figure who, when John needed him most, abandoned him in pursuit of moneymaking in America. The real story, she writes, has "gone unsung."

The Keats children, John, George, Thomas, and Fanny, endured tragedy early on, beginning with their father's death in 1804. (He fell from a horse following a night of carousing.) Only a few weeks later, their mother remarried, then ran off with another man, and eventually gave up her parental responsibilities. She died in 1810.

The year 1818 was one of emotional exhaustion and loss for John — one of the most difficult periods of his brief life. George, along with his new wife, Georgiana, set sail from Liverpool for America; and a few months later, their brother Tom died of tuberculosis — the disease that George would later call the "Family Complaint." As Gigante writes, John had no idea how he would go on "without the ballast of George" to support him as confidant and caretaker. "John's two greatest enemies — distance and disease — were phantoms one could not battle," she writes.

George could not forgive himself for leaving England, but he nevertheless made the leap, convinced it was worth the risks, emotional and otherwise. (That the surname of the ship's captain was Coffin did nothing to assuage his anxiety about the long ocean voyage ahead.) In his brother's absence, John was bereft: "But what, without the social thought of thee, / Would be the wonders of the sky and sea?" he wrote in a sonnet entitled, "To My Brother George." In a letter, he admitted that "George has ever been more than a brother to me, he has been my greatest friend."

Gigante is careful to portray George as an honorable man, rather than a villain who carelessly abandoned his brother. She notes that he was sympathetic to the price of his brother's genius — a "sensitive and hypochondriacal" nature, someone who was "devoted and affectionate" but suffered from a "nervous morbid temperament." George understood well that he served as "his brother's safety valve, to release pressure when his passions threatened to explode." Although John persevered, he craved his brother's physical presence. "God bless you," he wrote in a letter to George, in a passage that suggests the intensity of their bond. "I whisper good night in your ears and you will dream of me."

In fact, George's emigration was fueled by a magnanimous motive: the desire to comfortably support his whole family, including his brother, if needed. He also wished to make a significant mark in life, so that his role as "John's brother" would not be his only legacy.

This story cannot end happily, and indeed it does not. Although John dreamed of someday visiting George and his wife in America, in the winter of 1821 he died of tuberculosis at the age of twenty-five. However much he had fallen headlong "quickly and irreversibly" in love with a flirtatious eighteen-year-old named Fanny Brawne, George was the great love of his life. In any case, John's poverty and ruined health assured that his romance with Fanny was doomed from the start.

The latter half of The Keats Brothers explores George's ambitious but failed business ventures in America. He eventually landed in Louisville, Kentucky, where he became mired in debt from a poorly run sawmill operation, helpless to send money to John. George felt haunted by the knowledge that "his friends back home misread his character" and judged him harshly for not coming to the bedside of his dying brother. He blamed himself for John's death.

Twenty years later, on Christmas Eve, 1841, George too died of tuberculosis. At forty-four years old, he had at one point amassed the considerable wealth he had been seeking for so long — only to be left penniless in the end as the American economy plummeted.

As she unravels the compelling story of John's and George's lives, Gigante easily overturns stereotypes about academics churning out dry prose. She has the descriptive power of a novelist or poet: "Not until the ship was out on the vast expanse of the Atlantic would the liquid element lose its translucence and transform into a dark, fathomless blue." Just as impressive is her empathetic perspective and meticulous research. The Keats Brothers is a major accomplishment, one that will surely influence biographies of Keats yet to come.