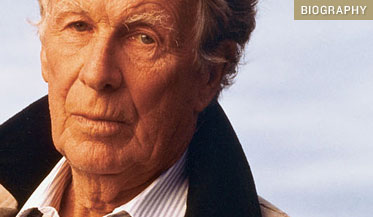 Kenneth Roman, author of the first biography of advertising pioneer David Ogilvy, joined the firm Ogilvy & Mather in the early 1960s, around the same time in which the acclaimed television series Mad Men is set. But if you've been hooked by the goings-on at the fictional advertising agency Sterling Cooper, be warned: The King of Madison Avenue doesn't ooze the same seductive glamour as the AMC series. (Here's Roman on sex: "Whatever Ogilvy did outside his three marriages was discreet." Subject closed.) In his only mention of the show, the author, who eventually became Ogilvy's third successor as chairman of the agency, calls it "overblown."

Oh well. But Roman's admiring biography has its own charms, even if those don't include office trysts and martini-soaked lunches. He sets out to explain how Ogilvy, an eccentric Brit who opened shop on Madison Avenue in 1948 with virtually no advertising experience, managed to create some of the most enduring advertising campaigns — for Hathaway shirts, Schweppes, Rolls-Royce, and Dove soap, among others — of the 20th century.

Ogilvy, born in a rural village in Surrey in 1911, grew up in what Roman calls "genteel poverty." His father was Scottish, and Ogilvy identified as a Scot throughout his life (he was known to don a kilt on many occasions). He attended boarding school on scholarship and had a miserable experience; after two years at Oxford, he left without a degree.

Following a brief stint as a cook in Paris, Ogilvy found a job through his brother Francis, who worked for the London advertising agency Mather & Crowther. One of the firm's clients was the Aga Cooker — a stored-heat stove recently introduced in Great Britain — and Francis set David up selling the Aga door-to-door. Ogilvy proved so successful at hawking an expensive appliance in the midst of a depression that the company hired him to write a sales guide for all its employees. "Published in 1935, when Ogilvy was 24 years old, 'The Theory and Practice of Selling the Aga Cooker' became the company's sales bible," Roman writes of the 32-page booklet. "In an article about him 30 years later, Fortune thought it 'probably the best sales manual ever written.' "

Through his experience with the Aga, Ogilvy formed views on salesmanship that he held stubbornly throughout his career. Ogilvy's iconic ads featured copious amounts of copy, and he created them by imagining that a housewife had let a traveling salesman through the door. "You talk to the housewife personally, and you tell her what your product would do for her," he wrote years later, at a time when jingly television commercials were all the rage. "You don't stand there and sing at her; she would think you were a lunatic."

Based on the strength of his Aga manual, Ogilvy was hired as a trainee at Mather & Crowther. He "studied the business feverishly, reading everything he could find," Roman writes. The brash young man convinced the agency to send him to the United States to study American advertising. According to Roman, "He would return a year later to tell his elders precisely what they were doing wrong."

Before long, Ogilvy moved to the United States; Roman speculates that he wanted to prove himself without the help of his brother, who was by then chairman of Mather & Crowther. He became the first employee of George Gallup's Audience Research Institute, polling moviegoers on the popularity of movie stars and testing story ideas (another formative experience, giving him a lifelong faith in advertising based on consumer research). He left Gallup during World War II to work in military intelligence for the British Embassy in Washington. After the war, he and his wife bought a farm in Lancaster County, Pennsylvania, and lived among the Amish, growing tobacco. When Ogilvy tired of that lifestyle, he at last returned to advertising, opening the American outpost of Mather & Crowther.

Within a decade of the agency's launch, Ogilvy had created most of the campaigns for which he is famous. All rooted in his insistence that advertising should inform, not entertain, they followed the same pattern: a photograph, a headline beneath the photo, and three blocks of text beneath that. "The Man in the Hathaway Shirt" ad, featuring a distinguished middle-aged man wearing an eye patch, became a sensation. "It was the first time shirt advertising focused as much on the man wearing the shirt as on the shirt itself," writes Roman, noting that Ogilvy added the patch to give the ad "story appeal." Schweppes, a British beverage brand, was virtually unknown in the United States when Ogilvy put the company's handsome, thickly bearded U.S. president, Commander Edward Whitehead, in the ads, making him the spokesman for "Schweppervescence." Sales shot up 600 percent in six months. And the headline of his Rolls-Royce ad, "At 60 miles an hour, the loudest noise in this new Rolls-Royce comes from the electric clock," sealed his place in advertising history, even after it was discovered that an almost identical line had appeared in a Pierce Arrow ad in the 1930s.

Ogilvy's first book, Confessions of an Advertising Man, became a bestseller in 1963, making him a celebrity. Shortly thereafter, the London and New York agencies merged, becoming Ogilvy & Mather, with David Ogilvy as chairman. His creative output slowed down, and ten years later he moved to a château in France, from where he produced "a tsunami of memos, letters, speeches, papers, and projects." He retained his stature, but the combination of distance and age made many colleagues feel he was out of touch. The committed print man never warmed to television advertising, and Roman gives the impression that he became a bit of a crank. In a videotaped message sent to the ceremony presenting the Advertising Research Foundation's first David Ogilvy Research Award, he ranted, "Nowadays…agencies are dominated by specialists in television. Their ambition is to win awards at festivals. They don't give a damn whether their commercials sell." By the time he reached his 70s, his role in the agency was largely ceremonial. He died in France in 1999, at the age of 88.

The author, who left Ogilvy & Mather after its hostile takeover by a British holding company in 1989, is an endearing, if at times repetitive, narrator of this life story. He clearly holds his subject in high esteem, and he doesn't seem particularly concerned with resolving the many contradictions of his onetime boss, who could be both open-minded and narrow, courtly and boorish. Retelling an old Ogilvy anecdote, Roman concludes, "That is his story, and it might even be true." But while the book may not penetrate the man behind the legend, it is nonetheless a welcome assessment of the storied accomplishments that made him a legend to begin with.