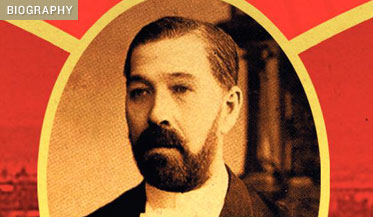 Brunchtime Bloody Marys, cosmos with the girls, a post-work martini: Vodka-based drinks seem integral to the cocktail today, but it wasn't always so. In fact, according to Linda Himelstein's gimlet-eyed The King of Vodka: The Story of Pyotr Smirnov and the Upheaval of an Empire, vodka wasn't even seriously marketed in this country until the mid-1930s, when a Russian-American entrepreneur named Rudolph P. Kunett opened the first vodka factory in the United States, advertising his little-known product to Americans under the following slogan: "Creating a new vogue in cocktails?VODKA by Smirnoff." How right Kunett was. In just a few decades, fueled by an aggressive Smirnoff marketing campaign that would eventually include James Bond's famous "shaken not stirred" endorsement, vodka would ascend to its current status as the nation's top-selling liquor, and Smirnoff to its spot as the bestselling premium spirit in the world.

But the story of how America caught vodka fever is merely a postscript to the central saga Himelstein, who has reported for BusinessWeek and The Wall Street Journal, sets forth in The King of Vodka. The true focus of her meticulously researched and notably sober historical narrative, spanning centuries and continents, is the Smirnov family. Hitching its fortunes to a certain bracingly clear beverage, the clan hoisted itself out of serfdom in the mid-1800s and into the upper echelons of Russian society, only to be brought low again with the onset of the Bolshevik regime in 1917. As she follows cleverly orchestrated business triumphs and costly personal mistakes, from Pyotr Smirnov's birth in 1831 to the present day, Himelstein mixes into the family history a neat lesson in Russia's past and that nation's complicated relationship with alcohol. Smirnov's crafty maneuverings to withstand adverse economic and political conditions shed light on two centuries of commerce and marketing — and remain instructive about business today.

Born into serfdom, Pyotr Smirnov set about making his way in the world as a young man by catering to the thirsts of his countrymen. "Many serfs were viewed by their masters as 'baptized property,' " Himelstein writes. "Most masters made little distinction between the people who plowed their fields and the horses that pulled the plows. Like merchandise at the community market, they could be bought, sold, or presented as gifts, almost on a whim." Yet, young Pyotr was allowed by his owner to travel first to the nearby town of Uglich, where his enterprising uncle Grigoriy ran a series of inns, and then to Moscow, where another tavern-owning relative had joined the merchant class. This, Himelstein explains, was part of an enormous social shakeup driven by the same Industrial Revolution that had already transformed much of Europe:
In the nineteenth century, Russia's tsars allowed for more free enterprise than virtually any generation since Peter the Great. A newfangled brand of capitalism and entrepreneurship blossomed?. The state could not single-handedly manage all that was needed to jumpstart economic development, from building railroads to modernizing arcane industries to establishing banking centers. Necessity, in its purest form, opened the door to dozens of ambitious go-getters — especially those involved in less capital-intensive enterprises. Grigoriy, and later Pyotr, were just two of the thousands who seized the moment.

It's probably safe to say that Pyotr seized it more vigorously than most. After buying their family's freedom in 1857, Pyotr and his father, Arseniy, opened a wine cellar in Moscow, selling wine and vodka by the glass and in bulk. Initially, they weren't allowed to distill their own liquor, but within a few years they expanded their product line and opened additional shops — and when the laws were changed to open the production, distillation, and sale of vodka and spirits to all, Pyotr was well positioned to capitalize. Demand for alcohol exploded in Russia, and Pyotr got moving. Procuring the space and equipment he needed, he set about perfecting his recipes, seeking to create "the tastiest most flavorful vodkas money could buy." His business quickly took off.

Here, we are treated to a wonderful example of a "premium" brand being born. "Word had begun to seep out among locals that Pyotr Smirnov cared about the taste and the purity of his drinks. Stories surfaced that he selected the purest water, finest spirits, and freshest ingredients for his mixtures. Smirnov exploited these stories, suggesting to his mostly lower-class customers that he alone was devoted to making high-quality, affordable liquor." That pure water is important — but it's the stories that matter.

All this suggests Smirnov was less a genius of the bottle than a wizard of marketing. He launched groundbreaking advertising campaigns, wheedled his way into the upper crust, and snagged a seal of approval from the tsar himself. And, in a story that makes it clear that "viral marketing" is nothing new, he also is said to have hired a bunch of poor immigrants to go back to their neighborhoods and loudly demand his vodka in bars, paying them to make a scene and ask, "How is it possible that your respected establishment does not have such a vodka? It is absolutely the most remarkable vodka there is!" According to lore, the stunt worked like a charm, and the popularity of Smirnov's vodka quickly spread throughout Russia — and the world.

Sad, then, to learn all the many ways Smirnov's feckless heirs — painted here as vain playboys prone to blowing their bucks on booze, gambling, and women — squandered the opportunities he'd handed them and allowed the family company to fall into ruin. Luckily for tipplers, one of the sons, Vladimir, who'd escaped to France after the Bolshevik Revolution and needed to make some quick cash, sold the U.S. rights to the Smirnov brand and formula to the aforementioned Kunett in 1933, who in turn sold the enterprise to another company, which successfully created demand and turned Smirnoff into what is today, a $4.7 billion global brand, owned by the British liquor behemoth Diageo. (The Smirnov family's post-perestroika attempts to lay claim to the brand — a long legal battle that Himelstein initially reported on for BusinessWeek — have been, according to the author, essentially thwarted.)

Like the man who is her subject, Himelstein's approach is careful, orderly, and disciplined — she rarely allows herself to speculate, preferring to stick to facts culled from her years of research in the U.S. and Russia. Occasionally a bit dry, the book compensates for its relative lack of color with a heady sense of its historic purpose. "Americans, you know, were uninformed about Russia, but they were misinformed about vodka," Kunett told The New Yorker in 1955. After reading The King of Vodka, they'll be neither.