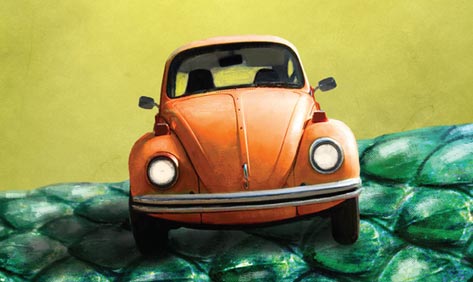 Wizards, dragons, orphans, and other familiar fantasy characters populate The Last Dragonslayer, the first novel in a new series for young adults by British novelist Jasper Fforde. Just as his previous novels for adults, beginning with the comic adventure The Eyre Affair, have come loaded with sly meta-fictional asides, this novel plays with literary genre conventions that younger readers might find familiar from certain contemporary blockbusters in young adult fiction (Fforde also leaves room for social commentary on recession, environmental degradation, and greedy real estate moguls).
This time, however, the young orphan of indeterminate origin who will soon discover her mystical powers is a teenage girl. Jennifer Strange is the "acting manager" of Kazam Mystical Arts Management, an employment agency for down-on-their luck magicians from various disciplines. And do they ever need it: spells themselves have a success rate that hovers around a very unimpressive twenty-five percent; the houses of magic have dwindled from twenty to two; wizards cast spells to rewire houses and unclog drains; levitators work for the city moving illegally parked cars, while magic carpeteers transport organ donations and takeout food. Even Strange's boss, to whom she is allegedly apprenticed, has been unreachable for years, after a poorly executed spell sent him into unknown territory. Fittingly, the "pre-cogs" who work for him can predict either the place, or the time, he may reappear, but never both; thus, their leader remains in limbo.
Jennifer's main assets in her battle with disorder include her sidekick, the Quarkbeast, who only 'looks like an open knife drawer on legs" but is "actually a sweetie, and rarely, if ever, eats cats" and a rusty orange 1958 Volkswagen Beetle, in which she was found abandoned in front of the orphanage as a small child. But then she receives a new apprentice, Tiger Prawns, the seventh foundling (Jennifer being the sixth, and as she explains, "we didn't talk about the fifth").
At first, it seems the main tasks of the teen girl and her pre-teen assistant will be finding their leader and defending their livelihood against the likes of the king's Useless Brother, who undercuts Kazam's price quotes and thus steals their government contracts. But then Jennifer discovers — in a twist surely unknown to fantasy readers — that she is not like the others; she is the one, the only; the prophesied — well, in this case, the Last Dragonslayer.
Her mission, it seems is, to kill the last dragon on noon on the designated day. This is unfortunate, because the dragon, Maltcassion, has much more to recommend his character than the monarch ordering his execution; the king is dismissive of Jennifer's gender, while being less honest, skillful, and grammatically astute than the teen girl to whom he condescends. Also, the minute the dragon dies, so the legend goes, his lands go up for grabs, and thus news of his impending demise sets off an unseemly rush, with citizens prematurely staking out their claims.
Jennifer finds herself a freshly minted celebrity, with offers of talk show appearance, cereal endorsements, sponsorships and marriage proposals (from suitors who graciously agree to take her more celebrated name). The familiar orphan-slays-dragon conceit is merely a useful scrim on which Fforde projects multi-layered humor, characters, and social commentary. Familiar prophecies aside, this debut augurs an engaging, witty and intelligent series to come.