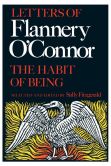 Flannery O'Connor died on this day in 1964, from lupus and attendant problems. O'Connor's fiction continues to hold its place—for example, her Complete Stories was recently voted all-time best winner in the sixty-year history of the National Book Awards—but many readers rank her letters as highly. "There she stands," writes O'Connor scholar Sally Fitzgerald, "a phoenix risen from her own words: calm, slow, funny, courteous, both modest and very sure of herself, intense, sharply penetrating, devout but never pietistic, downright, occasionally fierce, and honest in a way that restores honor to the word" (from the Introduction to The Habit of Being: Letters of Flannery O'Connor).

O'Connor seems to have maintained her honest, squinty-eyed outlook throughout her difficult last months, as she kept working on her last story collection, the posthumously published Everything That Rises Must Converge.The following passages are excerpted from her last letters:
* You can't get around newspaper people. I think they are the slobber-heartedest lily-mindedest piously conniving crowd in the modern world. [On my speaking tour] I got a stomach full of reporters. The one in Roanoke attempted to imitate my accent — nawth for north, etc. The one in Baltimore informed me that he and I used the same style. No more than we use the same toothbrush I was tempted to say, but I was too tired at the time to be ugly.

* [To an English professor] Thank you for your note. I'm sorry I can't answer it more fully but I am in the hospital and not up to literary questions…. As for Mrs. May, I must have named her that because I knew some English teacher would write and ask me why. I think you folks sometimes strain the soup too thin….

* It sure don't look like I'll every get out of this joint. By now I know all the student nurses who "want to write" — if they are sloppy & inefficient & can't make up the bed, that's them — they want to write. "Inspirational stuff I'm good at," said one of them. "I just get so taken up with it I forget what I'm writing."
---
Daybook is contributed by Steve King, who teaches in the English Department of Memorial University in St. John's, Newfoundland. His literary daybook began as a radio series syndicated nationally in Canada. He can be found online at todayinliterature.com.