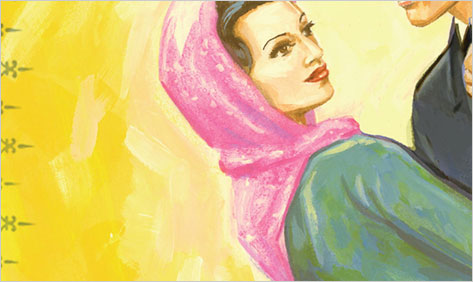 In the Velvet Underground's playful yet sincere "Rock and Roll," Lou Reed relates the story of a girl named Ginny whose humdrum existence changes drastically when she stumbles upon a New York radio station playing an entirely new kind of music. Ginny will never be the same, and this is a good thing. Indeed, "her life was saved by rock and roll." In The Locust and the Bird, Lebanese novelist Hanan al-Shaykh depicts her mother, Kamila, a stifled young teenager in 1930s and '40s Beirut, finding succor in Egyptian romance films and their crooning stars' mellifluous love songs. Denied an education by her family, illiterate Kamila explains that "the cinema had become my school, teaching me about life, history and geography." And after being married off at the tender age of 14, Kamila's continued furtive escapes to the movie theater provide more than just fun afternoons, as that is where her unlikely quest for love is nurtured. In a sense, movies save Kamila's life.

Al-Shaykh writes The Locust and the Bird from Kamila's perspective, consulting the copious notes she took as her mother recounted her alternately heart-wrenching and humorous experiences, as well as the heaps of personal papers belonging to her stepfather, Muhammad, the man Kamila loved and eventually married after divorcing her first husband. The resulting book movingly re-creates the life of a brave, mischievous, and stubbornly romantic woman.

Interestingly, in its Arabic-language edition, The Locust and the Bird was marketed as a novel. Yet the English-language edition, translated by Roger Allen, professor of Arabic and comparative literature at the University of Pennsylvania, avoids categorizing the book. In reality, The Locust and the Bird is a memoir decanted into a novel, though with almost every chapter it is impossible to know where Kamila's reminiscence ends and al-Shaykh's imagination begins. While the English-language version condenses and sometimes removes entirely certain sections, it also features two major additions. These are the prologue and three chapters (including the epilogue) at the end, which differ from the rest of the text in that they are written from al-Shaykh's perspective.

Veteran translator Allen, who has rendered the works of Naguib Mahfouz and other luminaries of Arabic literature into English, ably handles both the modern standard Arabic in which the narrative is written as well as the Lebanese proverbs (Kamila's specialty) scattered throughout. There are, however, occasional mistakes when it comes to Lebanese politics or even, at one point, Islam. A footnote describes Eid al-Adha as the feast which concludes Ramadan. In fact, in a near parallel to the biblical story, Eid al-Adha marks Abraham's acceptance of God's command (later withdrawn) to slaughter his son Ishmael as a sign of faith; separately, Ramadan draws to a close with Eid al-Fitr.

Kamila and Muhammad were both dead by the time The Locust and the Bird was first published in Arabic (in 2005), but the process of creating this unique literary work has clearly proven cathartic for al-Shaykh, who long had a strained relationship with her mother. For years, al-Shaykh resented Kamila, feeling that she had abandoned her and her sister when she divorced their father and married Muhammad. Only much later did the Lebanese novelist famous for tackling gender inequality and female sexuality in novels such as The Story of Zahra and Women of Sand and Myrrh reconcile with her mother and begin to understand the pressures that caused her to behave the way she did.

At 14, Kamila is pressured by her religious Shiite Muslim family into wedding her late sister's husband, to whom she was unwittingly betrothed at the age of 11. Yet she continues to pine for Muhammad, the young man she loves; their relationship evolves despite her marriage and the arrival of two children, of whom the second is Hanan al-Shaykh. Only after the passage of several years does Kamila succeed in breaking free of her husband's grip and marrying the man she loves, though contact with her two daughters becomes sporadic, as they remain with their father.

Throughout Kamila's turbulent life, there remain two constants. The first is Lebenslust. This sustains Kamila during her childhood, first marriage, and especially when her erstwhile friends turn their backs on her for divorcing her husband and marrying Muhammad. "I thought about the sheer misery of those women I'd once known so well, women who, unlike me, had never tasted the sweet pleasures of love and passion," she muses. "Their spouses never watched films the way Muhammad and I did; they didn't understand songs or fall under their spell; they never recorded their thoughts, wrote down proverbs, memorised poetry and recited it by heart."

The other invariable feature of Kamila's days is the ever-hovering menace of male domination. Of course, her situation is hardly unique: "Most of my friends were scared of every man in their family — even distant relatives — and this included the rich and the grand, like my glamorous cousin Mira." Divorcing her husband and marrying Muhammad provides some respite for a few years, but when Muhammad dies in a car accident, Kamila yet again finds herself at the mercy of men. In line with Islamic law, her brother-in-law is made her "guardian" and placed in charge of her finances. Kamila must summon both courage and guile to convince the shariah court to grant her independence.

The novel's only significant weakness is its sluggish pace. Inevitably, the poetry-filled yearning characterizing Kamila and Muhammad's years apart begins to grate after a while. And al-Shaykh's decision to chronicle Kamila's countless attacks of jealousy and insecurity proves exasperating, repeatedly miring the story in protracted nothingness. Equally unoriginal is Kamila's realization that married life with Muhammad is not all bliss, what with children and domestic chores multiplying almost unabated.

Of course, there are exceptions. Occasionally, al-Shaykh will inject a surprisingly powerful element into descriptions of her mother's long days and quotidian duties, as when she depicts Kamila's disturbing (and successful) attempts to miscarry, a ghastly homegrown solution to unwanted pregnancy. And after Kamila is widowed, al-Shaykh poignantly has her express her newfound anxiety: "During our marriage, my endless pregnancies and exhaustion had left me isolated from friends and relatives. I'd seen the world through his eyes. After his death, it was as if I started out all over again."

What really matters, however, is al-Shaykh's major twofold achievement with The Locust and the Bird. To begin with, she has written a stirring but never hagiographic account of a woman — her mother — who defies almost every major societal and religious stricture governing women's behavior in her time. Yet al-Shaykh also manages the remarkable feat of unpretentiously capturing a character's philosophical relationship with art. A close reading of The Locust and the Bird reveals that — perhaps counterintuitively — young Kamila does not in fact live vicariously through film; she pointedly refrains from transmuting her hunger for the real yet elusive man she loves into a complacent satisfaction with the honeyed images of romance flitting before her eyes. Indeed, far from allowing films to become her life, Kamila emerges from the theater spiritually refreshed but further impelled to achieve her dream. And that, aside from being a profound notion al-Shaykh deftly encapsulates in literary form, is probably both the wisest and healthiest approach to art.