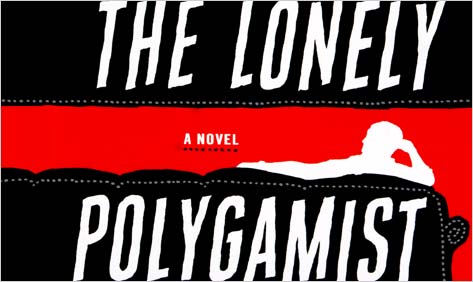 In Reality Hunger, a self-described manifesto recently published to much chatter, David Shields argues that the conventional novel, with its contrived plot points and all-seeing authorial voice, is dying, and deserves its fate. David Shields, meet Brady Udall. In the tradition of John Irving and Richard Russo and dozens of other novelists whose work appeals to something in people that Shields either can't or doesn't want to understand, Udall writes unabashedly old-fashioned fiction. It's stuffed, in the present case, with fallout from A-bomb tests, a frisky ostrich, births and deaths, and a family, "like so many overextended empires before it, coming apart along the seams."
The title character of Udall's second novel, The Lonely Polygamist, is 45-year-old Golden Richards, husband of four and father of 28. With such an army to support, Golden, a Utah contractor, can't afford to turn his nose up at a lucrative job, so he's ignoring his Christian convictions and building a brothel in the neighboring state of Nevada. He lets his devout wives and church friends believe that the project is a home for seniors.
Despite the size of his family, Golden is feeling "a loneliness that verged on desperation." His gloomy mood began with the death of a young daughter, Glory, three years earlier. (The chapter charting his relationship with Glory, who suffered from spastic cerebral palsy, is the kind of expertly condensed set piece at which Udall excels.) Golden has even started pining for his boss's wife, which only compounds the guilt he feels for neglecting his own family.
The size of the cast means that Udall, like his protagonist, must make some tough choices. The smartest one he makes is to ignore the children as individuals (there are plenty of funny descriptions of them as a faceless hive), except for one, Rusty. Going on 12 years old, boyishly spazzy and misunderstood, prone to conspicuous behavior like trying on his sisters' underwear or blowing up a cherry bomb in the dryer, Rusty has been separated from his nervous mother, wife #3, to live in another house under the sterner guidance of wife #1, Beverly. Rusty's plight is to be a kid looking for attention when there isn't nearly enough to go around. "If there's anything you learned as a plyg kid," he thinks, using the shorthand for a child of polygamy, "it was that you were not the center of the universe." The one family member who offers him substantial sympathy is Trish, wife #4, who lives with her daughter from a previous marriage in a duplex on the other side of town from the rest of the clan, "like some exiled daughter of a Prussian czar." Though Golden gives the novel its title, he, Rusty, and Trish all form its yearning heart.
We may live in a reality-hungry world, like Shields and others suggest, but there is still a unique pleasure in having the vague messiness of life alchemized into a good story, and Udall does that as well as anyone currently writing. He is such a gifted and confident storyteller, in fact, that it's only when the last page has been turned that one questions whether he has whitewashed the subculture of polygamy. The idea that a marginalized fundamentalist religion that espouses patriarchal polygamy might have some pretty dark corners (see: Jon Krakauer's Under the Banner of Heaven) is not examined here. There is real confusion and grief in the book, but it is mostly portrayed as it might be for a family of five. This is simply the Big American Family Novel writ Bigger, a study of the ways in which we surround ourselves looking for love only to be disappointed and essentially alone. Or as a minor character puts it to Golden: "Safety in numbers. Ain't no such thing."