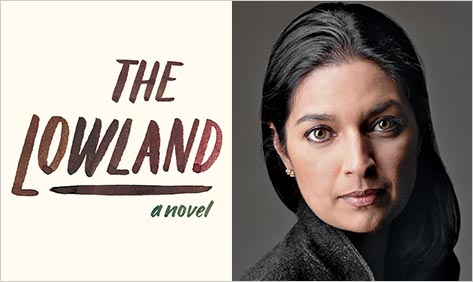 This is one of those times when I wish that the author of a novel had issued a statement to reviewers as to what she considers acceptable for us to reveal in discussing her book. Jhumpa Lahiri's The Lowland hinges on an event revealed a quarter of the way through the book and a couple of decades into the life of the central character. That event gives rise to circumstances that make up the substance of the book, but to reveal even the most necessary of those seems somehow out of order. The publisher takes the movie trailer approach: Two brothers bound by tragedy. A fiercely brilliant woman haunted by her past. A country torn by revolution. And, I, myself, could continue in the same vein: A story of dislocation, estrangement, and loneliness, of loss and regret, duty and grief. A deeply moving tale of family ties that strangle as much as bind. All true, but I couldn't go on like this without passing out from a surfeit of abstraction.

Instead, I am just going to be ruthless, and you can stop after the next couple of paragraphs if you want to come to the book in a state of innocence. (I will alert you at that point.) I must say, however, that though the novel's plot is essential, the strength lies in Lahiri's particular vision of life, which here, as elsewhere in her work, is shaded with loneliness; and also by her evocation of place, and her skill in conveying her characters' predicaments and feelings in simple, spare prose.

At novel's start, Subhash and Udayan, two brothers separated in age by fifteen months, live with their parents in a little neighborhood in Calcutta in the 1950s. Nearby is a small mosque that has survived partition, and the Tolly Club, a sporting club established in colonial days and still highly exclusive. Also adjacent are two ponds lying side by side that merge to become one in the rainy season. The ponds, it becomes clear as the story unfolds, represent, in some sense, the fates of the brothers.

We first meet the boys breaking into the grounds of the Tolly Club to hit golf balls, a venture that is the brainchild of the younger, Udayan, the leader and more outgoing and intrepid of the two — though when they are caught, it is Subhash who is beaten. Both boys attend university, but Udayan gets caught up in the Maoist Naxalite movement, whose activities included assassinations and bombings. Meanwhile Subhash travels to the U.S. to study for a doctorate in oceanography in Rhode Island, accepting the idea that he will return home afterward, enter an arranged marriage, and live a traditional Indian life. This is the point where spoiler-averse readers will wish to stop.

Subhash's life is lonely, and even his thoughts of home become unsettled when his brother writes to say that he has married without their parents' permission and very much to their dismay, though the young couple are living with them. Still, Subhash carries on with his studies and even enters into an affair, though he knows — more uneasiness — that it has no future. Then, toward the beginning of his third year of study, a telegram arrives: Udayan has been killed. It emerges that he was shot by the police for revolutionary doings, his body never restored to the family. Returning home to offer comfort, Subhash discovers that Udayan's wife, Gauri, despised by his parents, is pregnant and only barely tolerated in the house as a servant. Subhash does what he considers the right thing and marries her himself, taking her off to Rhode Island. Somehow he feels that their shared love of Udayan is enough to build on.

With this we can say the story really begins, and in some ways it amounts to a tale of excruciating endurance for both Subhash and Gauri. The two of them are confined in a marriage that is poisoned by her inability or unwillingness to accept what has happened. The bootless nature of Udayan's political activities are horribly evident: "Udayan had given his life to a movement that had been misguided, that had caused only damage, that had been ruthlessly dismantled. The only thing he had altered was what the family had been."

A daughter, Bela, is born, but Gauri neglects her, nursing her own sorrow and frustration, and, finally, secludes herself from the family, taking up study toward what becomes a doctorate in philosophy. Subhash, who has achieved a university teaching position, has to look after the child, after everything in fact. Lahiri is as sympathetic in her portrayal of Gauri as anyone could be, and we see that this character's feeling are perfectly genuine, but that does not disguise the fact that she is a self-absorbed monster, consumed with her own plight and utterly indifferent — at best — to the people she should care most about.

I have certainly given enough of the plot away, suffice it to say there are further developments, for Gauri, for Bela, and for Subhash himself. Every one of them has the ring of truth, so embedded are they in a meticulously conjured context and offered from the differing points of view of each member of this unhappy family. This is a slow-building, indeed slow-moving novel, simple and powerful in style but lacking the elastic tension and clarity of Lahiri's short fiction. Still, the accumulating movement of feeling that forges and unforges relationships is acutely observed. Further, Lahiri renders with subtlety the hybrid nature of the alienation that afflicts Subhash and Gauri — in part particular to their individual personalities and circumstances, in part the product of being immigrants. The novel is a painful one, though it is not entirely bleak, for Lahiri does, by the end, provide an honest reckoning, some recompense, and a redemption. Of sorts.