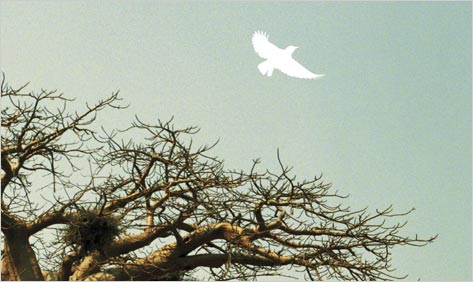 It is tempting but foolish to assume that a writer's work is a reflection of that writer's life. Yet the outline of Moyez Vassanji's own story suggests themes and preoccupations that are indeed central in his novels. Vassanji, who is Indian by parentage and tradition, was raised in Africa, emigrated to the United States, studied nuclear physics at MIT and eventually settled in Toronto where he studied Sanskrit and Indian philology and then began to write fiction. "I was brought up straddling cultures and countries," he explained in a 2007 interview, "It was impossible to be pure." And the idea of purity — ethnic, religious or political — is repeatedly tested in Vassanji's novels, where it is found to be at best wrongheaded, at worst atrocious. Purity of the heart is, of course, a different matter, if no less vexing.
"I had returned after thirty-five years," the protagonist of Vassanji's latest novel observes as he follows his heart, "a respected doctor, fortified with vaccinations and prophylactics…. Every means to protect myself from the ills of the tropics in which I was born." In The Magic of Saida, Kamal Punja leaves the "…delicious climate-controlled certainty" of his Canadian suburban home and travels to his birthplace in Tanzania, looking for Saida, the girl he loved, to fulfill his promise that he would return. A pure quest, it seems. But as this stately, oddly absorbing novel opens, it is immediately clear that nothing is clear.
In a hospital in Dar as Salaam, a patient suffering from delirium, most likely drug-induced, babbles about a poet hanged from a tree and an enchanted girl called Kinjikitile. The patient is Kamal and he has apparently been poisoned. His adult children, freshly arrived from Canada, hover at his bedside and a local publisher, hearing of Kamal's ravings, visits him to learn more. The publisher recalls that Kinjikitile is "…the name of a man, the prophet who inspired the great War of the Waters against the Germans in this country a century ago." And the poet mentioned by Kamal could only be Mzee Omari Tamin, "…one of our preeminent bards, found hanged from Kilwa's equally famous mango tree, sometime during the 1960's." As Kamal recovers, he confides in this stranger who becomes "….his comfort, his sounding board, his nurse — not the first publisher, surely, to find himself in such a role."
It is a timeless, familiar overture — the chance encounter between the seeker and the listener; the narrative propelled by memory into the past — and the story that follows is both deceptively simple and slyly convoluted, as befits the unsteady life it describes. "It would seem to Kamal later," the publisher learns, "…that his childhood existence had been some conjuror's creation, with the ability to change shape, parts of it to disappear like smoke, leaving behind only the indelible impressions on his mind and heart, utter bewilderment and sorrow. The only child of an African mother whom he adores and an Indian father who apparently abandoned them and died mysteriously, Kamal is later sent by his mother to live with his father's brother in Dar as Salaam. So begins his exile, first from home, later from Africa. He has been formed, however, by that earliest place. "Kilwa was all history," he recalls, "The past haunted from the ruins and graves; it was there in reference to the Germans how had ruled here once, and the slaves who were sold here; he heard it in his mother's tales and he heard it recited — majestically — by the old poet, Saida's grandfather."
Kamal is nine when the poet begins the epic whose thousand verses would contain "the history of our Kilwa and of our precious Swahili coast." Before Mzwee completes his task, however, he is found hanged on the same tree where rebels fighting German colonial rule were hanged. Vassanji revisits that war, but its horrors are muted when contrasted, for example, with Uwe Timm's extraordinary novel of the same period, Morenga. Vassanji's reach, of course, is wider. His novel shuttles back and forth, between Tanzania's colonial period and Kamal's childhood, between Kamal's childhood and the present, folding into each switchback turn another layer of meaning, another fragment of the puzzle that has formed this man and his country. "After the Arabs, and thirty years of German rule, and forty of British, this was the time of the African," young Kamal learns when independence is declared. But where does he, "a failed Indian" belong? Even the present is shifting ground, Kamal discovers, when he finally tracks down his heart's desire on territory that plunges him into a Conradian heart of darkness.