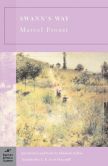 For a long time, I went to bed early. Sometimes, my candle scarcely out, my eyes would close so quickly that I did not have time to say to myself: "I'm falling asleep." And, half an hour later, the thought that it was time to try to sleep would wake me; I wanted to put down the book I thought I still had in my hands and blow out my light; I had not ceased while sleeping to form reflections on what I had just read, but these reflections had taken a rather peculiar turn; it seemed to me that I myself was what the book was talking about….

–the opening of Marcel Proust's Swann's Way (Lydia Davis translation), published 100 years ago today
Declined by a handful of publishers, this first volume of In Search of Lost Time was author-financed, but in the literary community at least, the book's rise to fame began almost immediately, and by the time Proust died just a little over a decade later, he was, wrote John Middleton Murray in the Times Literary Supplement, "that odd king over the water":
The vogue has risen into a cult; and the cult, embracing the cultured masses, has deepened into a wave; until the whole of our literary taste is threatened by the towering line of this tidal, this positively Marcel, wave.
---
Daybook is contributed by Steve King, who teaches in the English Department of Memorial University in St. John's, Newfoundland. His literary daybook began as a radio series syndicated nationally in Canada. He can be found online at todayinliterature.com.