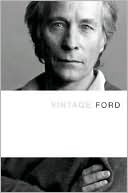 Richard Ford was born on this day in 1944. Ford's novels and stories feature a gallery of outside-looking-in heroes, as suggested by an encompassing comment in his 1981 novel The Ultimate Good Luck: "Everyone is marginal." Based on his autobiographical fragment "My Mother, In Memory" (included in the 2004 collection Vintage Ford), Ford certainly places himself — his youth, his parents, his glancing grasp of what they meant to each other — in the "everyone" category.

The title "My Mother, In Memory" carries a double meaning. In part, Ford's essay is in dedication to and tribute of his mother's (and father's) love and endurance. When she lost her husband to a heart attack — Ford a teenager, his father collapsing in his arms — her life narrowed but did not stop. She took jobs; she tried new men, she deepened her relationship to her only child, she battled loneliness and cancer. The essay offers many snapshot recollections, material for any number of Ford's heart-wringing stories — a worried son pounding on the door of the apartment where his mother is having a late-night drink, asking her for a birds-and-bees talk, noting the light in her eye when she imagines trading in her husband's sensible car for a Thunderbird, noting her tears as she ends her visit to his college, his apartment, his home.

But Ford's title (and very often the heart-wringing in his stories) is based on his feeling that people elude each other in life and retain (or increase) their elusiveness in memory. Sometimes this has to do with proximity; in the passage below, Ford reflects on the marriage his mother and traveling salesman father enjoyed before their son came along:
This time lasted fifteen years. An entire life lived then. A loose, pick-up-and-go life. Drinking. Cars. Restaurants. Not paying much attention. There were friends they had in New Orleans, Memphis, in Little Rock, and on the road.… I think they were just caught up in their life, a life in the South, in the thirties, just a kind of swirling thing that didn't really have a place to go.… And I know that my mother's only fleeting references to that time, as if the thirties were a long weekend — drinking too much, wildness, rootlessness — gave me the impression something possibly untidy had gone on, some recklessness of spirit and attitude below the level of evil.
But mostly we are pushed to the margins of other people's lives by deeper things — experiences that are "unnarratable," an understanding of "how little all you can do can really matter," the sinking feeling that "even together we were alone."
---
Daybook is contributed by Steve King, who teaches in the English Department of Memorial University in St. John's, Newfoundland. His literary daybook began as a radio series syndicated nationally in Canada. He can be found online at todayinliterature.com.