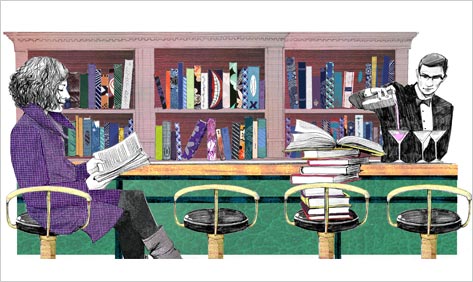 "And it shall come to pass that when the 13th baktun comes to an end, so will the world. Everything, even the entombed red-cinnabar-coated kings, shall be destroyed in an apocalypse. So it has been foretold — and so many believe — by the ancient Maya calendar; even Maya deities like the jade-haired maize god and the goggle-eyed storm god must submit." —The New York Times
As we approach the completion of the Great Cycle, you may be wondering: What's the perfect present for these trying (and final) times? We have cooked up the gift guide to end all gift guides, and, incidentally, to end everything else.
For the foodie!
There's always Cuisinart, but why not get groovy with DIY this winter solstice? Try your hand at some homemade flavored salts (we like Meyer lemon and Kimchi!), and you'll impress your friend with your hearty nature and something-from-nothing skills. She'll put down her immersion blender and say, We need people like you in the coming weeks, such as they are. Now you're gifting like a guru! Your delicious preservatives will have earned you a place in a secured basement three miles below the surface of the earth. Ignore the futility of these foolhardy safety measures. Bake loads of oatmeal bars instead! Place them in pressurized decorative tins—great for sharing.
Hot tip: using your crafting scissors to fashion personalized hang-tags will give the desserts a "finished look." Hang-tags can double as toe-tags during the Great Clean-Up, after The After.
Fun stocking stuffers under $30!
This year, everyone is on a tight holiday budget. But we're not talking money—we're talking time. Shop smart and stock up on easy-to-complete activities for the whole family. We're especially excited about 5-piece jigsaw puzzles ($10), pre-molded artisan Play-Doh ($7), and Picked-Up Stix ($5). You may have just enough minutes left before the precession of the equinoxes to watch the first season of Homeland ($27.99) on DVD, but no one wants to end the Great Cycle on a cliffhanger. So it is written, the thirteenth baktun closes before the twelve days of Christmas even begin. A pet bird ($30) may just be a great way to keep track of the diminishing hours: when the partridge in the pear tree falls, It will be upon us.
For the little ones!
As the North Pole shifts from Polaris to Vega, so will the exact location of Santa's house. Even mythology must reckon with these disruptive times. Take out a map and help your children find his new address, temporary as it might be. Use crayons! Make it fun! You can send their letters by USPS, but there's really no accounting for holiday delivery delays, especially with the recalibration of physics as we know it. Either way, your kids won't be the wiser. As the days dwindle, take them by the hand and tell them, If Santa exists, then so do catastrophic astronomical events. Spin a dreidel to demonstrate the rises and dips in Earth's cycle of precession. We also recommend the new Furby from Hasbro ($54). It just might outlast us all.
For the friend who has everything!
We all know this person: he's got the whole world in his hands. But when the winter solstice sunrise moves towards the galactic center and the moon is in the seventh house, will he still? For the friend who "had it all" before The Before, give an experiential gift. Has he ever sky-dipped or thunder-surfed? Now's the time to buy him lessons! Has he ever eaten solid air? Give him the dining experience to end a lifetime!
If he pouts at your presents, then take him to see the sideways solar eclipse on the Final Sunday. Bring snacks! Everyone will be there! We have no choice.
Hilary Leichter has taught creative writing at Columbia University and Freebird Books. She is an associate editor at NOON Annual. She will be spending the Mayan apocalypse eating Chinese food and seeing a movie, of course.