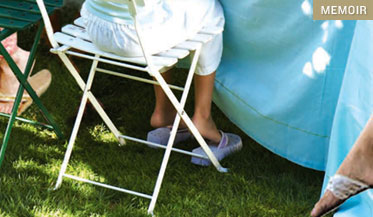 Out of all the reasons to recommend a book to a friend, my motivation is rarely "This might help." But twice now, since reading Amy Dickinson's new memoir, The Mighty Queens of Freeville, I've passed it on in precisely that spirit. In one case, I thought a city-dwelling friend of mine, who's lately missed the small midwestern town she grew up in, might find comfort in Dickinson's loving description of her own rural hometown in upstate New York. In the other, a mother of three very young children revealed that her husband (the rat) had recently left her for another woman; I hoped she might find some salve in Dickinson's survival under similar circumstances.

Dickinson, who writes the syndicated advice column "Ask Amy," dispenses no advice in this book. Yet her experiences — which she relays with disarming charm, humor, and intelligence — and her resilience may prove instructive, even restorative, for many readers.

In a dozen chapters that could work as stand-alone essays — yet which loosely weave together to form a story — Dickinson, who was tapped by the Chicago Tribune to succeed Ann Landers in 2003 and who contributes regularly to NPR, warmly welcomes us into her life. It's an informal, kick-off-your-shoes-and-sit-down kind of story, and Dickinson makes the most out of its lively cast of characters. There's her father, who left his family and their farm to run off with a truck stop waitress; the college sweetheart husband Dickinson followed to London, only to be abandoned by him shortly after the birth of their daughter; the daughter she's raised on her own; the string of unsuitable men she's dated; and the close extended family that's gotten her through.

More than anything else, there's Freeville (pop. 458), the small Upstate New York town she's always considered home — even while she's lived in London, Washington, D.C., and Chicago. "My family has called Freeville home for over two hundred years," she writes. "We've tilled and cultivated the land, tended chickens and Holsteins, built houses and barns and backyard sheds. Most significantly, my family has made more family, and that's the main reason I continue to call this little place home."

As her story unfolds, Dickinson emerges as a mix of big-city smarts and small-town wisdom, self-deprecating wit and steady self-assurance. Also in evidence is the steadfast pragmatism that distinguishes her daily advice column. "When people ask me how I know what I know or how I get to do what I do, I have the answer," she writes. "I got here the hard way, by living a life and making my share of mistakes." Vitally, Dickinson sees that path as one she couldn't have walked alone. "I got here with my family watching my back, with my hometown community influencing me and accepting my choices and enfolding me in their prickly embrace."

Dickinson's close circle of relatives — mostly women because, she notes, divorce runs in her family "like an aggressive chromosome" — pick her up and dust her off after her broadcast journalist husband ditches her for a younger woman. "He told me that he was tired of disappointing me," she writes, "and I understood perfectly because I hated the feeling of being disappointed by him." And while, for years thereafter, the men she dates continue to disappoint, the women in her life never do. As Dickinson puts it, "They abide," dropping by to sit on porches, gathering to watch movies, sharing pews at church, and meeting weekly at the local diner to discuss family news. (Conversational topics include "Ancestor Trivia," "Politics and You," "Jellies and Preserves," "Humidity," and "Pets: Dead or Alive," she wryly observes.)

The values these women impart propel Dickinson forward as she struggles to raise her daughter, Emily, and to build a career as a journalist. Putting family first, she turns down a prestigious job at Time magazine — a really big break — because it involves the sort of travel and 60-hour workweeks that would keep her away from Emily for long chunks of time. "I have another job," she tells the startled bureau chief. "I'm trying to raise a person." Impressed, the bureau chief calls back days later to offer her an even more prestigious job — her own column about families and parenting — this one with a more mom-friendly schedule. "You know that you skipped over the part where you work here for years and then get your own column?" he says. (That's the sort of career kismet Dickinson seems to have; she snagged her plum advice column gig without even breaking a sweat.)

Following her heart, Dickinson meanders through life along circuitous routes, which might be maddeningly indirect if they weren't so scenic. Dickinson's knack for zeroing in on telling details and her sly humor make the journey worthwhile, wholly enjoyable, and — for all its undeniable sweetness — surprisingly untreacly. She conjures the contours of her life by highlighting its contrasts: the difference between the church she attends in D.C., with its swanky locale, soaring Gothic details, and politically connected congregants, and the one she frequents in Freeville, with its rusted aluminum siding, fragrant Saturday barbecues, and lively airing of community news ("Joys and Concerns," they call it). And she has a few laugh-out-loud slapsticky passages I won't ruin for you here.

I also won't ruin the end, with its lovely emotional payoff. Suffice it to say that Dickinson's unconventional choices always seem to carry her in the right direction. Her career success is ultimately matched by luck in her personal life. And by the time she sees Emily off to college, well, we couldn't be happier for them if we were members of their own family.

Such is the charm of The Mighty Queens of Freeville. As big as Dickinson's family may be, there always seems to be room for one more at the table. Reading this book, you get the lovely feeling that, for a time, that person is you.