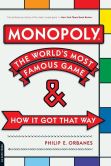 Charles Darrow, an unemployed Philadelphia repairman, sold his game Monopoly to Parker Brothers on this day in 1935. The game sold 2 million copies in eighteen months, making fortunes for Darrow and Parker Brothers and adding, says Philip Orbanes in Monopoly: The World's Most Famous Game — And How It Got That Way (2006), the fairy-tale final chapter to "a rags-to-riches American success story filled with unexpected twists, turns, surprises, disappointments and triumph."

But it was a story also filled with fraud, says Ralph Anspach, author of The Billion Dollar Monopoly® Swindle. Darrow discovered the board game at a dinner party in 1932, but it had been around since 1902, when Elizabeth Magie Phillips, a follower of the economist Henry George, created The Landlord's Game as "a practical demonstration of the present system of land-grabbing with all its usual outcomes and consequences." Phillips patented her concept, but she had her eye more on social reform than personal profit: "Let the children once see clearly the gross injustice of our present land system and when they grow up, if they are allowed to develop naturally, the evil will soon be remedied."

As handmade copies of The Landlord's Game circulated among like-minded reformers and their friends, the board and the rules evolved, bringing the board game closer to the commercial market. Darrow added a number of key elements — the color-coded properties, the boot and thimble and other charm-bracelet playing pieces, the "Go" square (Phillips's equivalent square had the anti-capitalist message "Labor Upon Mother Earth Produces Wages" — but these hardly justified his "brain-child" claim. Parker Brothers soon discovered the extent of Darrow's fraud, but Monopoly was already making everybody rich; as described by Anspach, what happened next became a living example of the game's cutthroat worldview:
To get rid of the competition and monopolize monopoly, [Parker Brothers] had Darrow get a fraudulent invention patent which earned it about an extra one billion dollars in monopoly profits. The company then embarked on a brilliant cover-up of the existence of the folk game monopoly. A part of this operation was to suppress the real history of the game and substitute the story of an All-American hero whose ingenuity and drive raised him from rags to riches.
The company also neutralized Elizabeth Magie Phillips from spilling the beans by promising to make her other game, which had an anti-Landlords theme, into a bestseller. She was then betrayed by the company and airbrushed out of history.
---
Daybook is contributed by Steve King, who teaches in the English Department of Memorial University in St. John's, Newfoundland. His literary daybook began as a radio series syndicated nationally in Canada. He can be found online at todayinliterature.com.