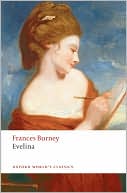 January 6: Fanny Burney died on this day in 1840. Burney was one of the best-selling writers of the late eighteenth century, and for Virginia Woolf' she is "the mother of English fiction." If her novels are not now widely read beyond the university curriculum, her diaries, journals, and letters retain their reputation as not only an invaluable record of her day but lively reading — from one who scoffed that Boswell, the era's more famous diarist, was merely Johnson's "memorandummer." Burney's personal records range over seventy years and contain many fascinating moments — being chased through Kew Gardens by madcap George III (a key scene in The Madness of King George), being trapped in Brussels on the eve of Waterloo, experiencing the horror of a mastectomy with only a single glass of wine as anesthesia — but it is her early years among Johnson and others in the social and literary elite which are especially prized.
Her "entrance into the world" of fame came at the age of twenty-six, through a door opened by the revelation that she was the anonymous author of Evelina, her first novel and a runaway hit. Literally, the door belonged to Hester Thrale, who had discovered that the book which was the talk of London had been penned by the daughter of the music teacher she employed. Fanny was soon spending weeks at the Thrale estate, and sitting to dinner beside Johnson, Mrs. Thrale's permanent houseguest and prize literary catch. He, too, liked and promoted Evelina — "Harry Fielding never did anything equal" — and as the son of a bookseller become a national monument in his lifetime, Johnson saw something of himself in the young under-class author. She was his "sly Young Rogue," his "spy," and ally in the larger battle between struggling writer and wealthy patron. When he heard that Fanny was to be introduced to Elizabeth Montagu, the queen of the bluestockings, he passed on to her the advice of an old lion:
Dr. Johnson began to see-saw [on his chair], with a countenance strongly expressive of inward fun, and, after enjoying it some time in silence, he suddenly, and with great animation, turned to me and cried, "Down with her, Burney! — down with her! — spare her not! attack her, fight her, & down with her at once!"
---
Daybook is contributed by Steve King, who teaches in the English Department of Memorial University in St. John's, Newfoundland. His literary daybook began as a radio series syndicated nationally in Canada. He can be found online at todayinliterature.com.