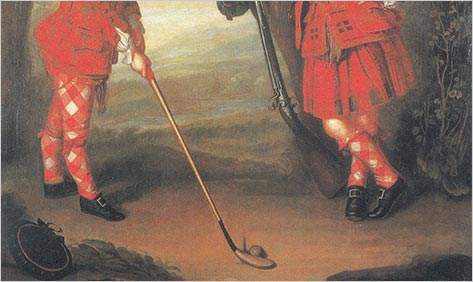 "Golf holes the size of pizzas…. A mulligan on every hole. These are some of the measures — some would say gimmicks — that golf courses across the country have experimented with to stop people from quitting the game…. People under 35 have especially spurned the game, saying it takes too long to play, is too difficult to learn and has too many tiresome rules."– The New York Times, April 18, 2014.
Hey there– you, young person, throwing those clubs in the river. Before you walk away and find an activity that's quick and light on the rules, like brunch, or intercourse, please, give us a chance. Golf, at least the New Golf — Golf 2.0 — is nothing like it used to be. Yes, there are balls, there are clubs, and — for the most part — you still have to sometimes be outside to play (though we're working on that), but if you'll grab a lightsaber — yes, we've completely redesigned the putter — and take a seat in one of our new Bluetooth-enabled, runs-on-corn, voice-activated golf carts, we'd love to tell you about what's new here on the organic, pesticide-free grass.
1. Worried that golf takes too long to play? Not the New Golf. You don't need to hit the ball at all — just run with it and drop it into the hole. The hole too far away? Use our dropbox, conveniently located in the hip new nightclub located just off the 9th green. Don't even want to show up? Download our smartphone app and drag the ball icon into the picture of the hole — and that's it! You've played golf!
2. Okay, so you actually want to come play, but you hate that the game is so difficult to learn? Not when you can use one of Golf 2.0's brand-new lifelines. There's Call-a-Pro, where a former golf pro — now unemployed because no one cares much about this sport anymore — will give you personalized advice about which club to use and how to swing it. Or he'll go down there and hit the shot for you himself. Great drive, Rory!  And you can eliminate tricky sand traps with our new portable sand-trap covers — each game now comes with a dozen of them, to be deployed as you wish. A tree in the way? There's a lumberjack on call 24/7.  He'll even cut down the clubhouse if your ball has taken a particularly bad turn.
3. If you do actually hit the ball yourself, don't worry — the New Golf doesn't leave you alone to fend for yourself. Our recently developed drone balls can be controlled while in the air — by you, or by a team of military professionals stationed in a secret bunker underneath the 18th green. Or you may merely need the services of our remote-control robot caterpillars, who will push your ball inches — if not feet — closer to its final destination. Plus, the robot caterpillars double as mobile WiFi hubs.
4. But you just aren't athletic enough to swing a golf club?  Not to worry: if you can just touch that ball, a little — nudge it off the tee — powerful electromagnets will draw it toward the hole, with the push of a button — players with pacemakers, please consult a doctor before playing.
5. Is all this talk of balls, clubs, trees, and the outdoors making you feel a little out of your element? That's okay, too, technology workers and video game enthusiasts. You can always just decide to control your ball remotely, using the New Golf's optional joystick accessory. Alternatively, you can use our new website golfergofer.com to hire someone to play the game for you. You can watch — from the clubhouse or, for an additional fee, at home, and supervise the action with our virtual-reality helmet cam.
6. Your ultimate score? Frankly, the new golf doesn't care how many strokes it takes to get the ball in the hole, which clubs you use, or whether you do anything at all involving a ball, a club, or anything with any physical weight at all. The only thing that matters is how many Twitter followers you have. Your number of Twitter followers is your score, and the highest number wins. The New Golf couldn't be easier.
Are you still reading? We didn't think so, because reading is tiresome and difficult. But are you ready to play? Great! Don't forget your light saber, your helmet cam, and this voucher for one free robot caterpillar. He answers to "Tiger."
Jeremy Blachman last played golf during the Clinton administration. See more of his work at jeremyblachman.com.