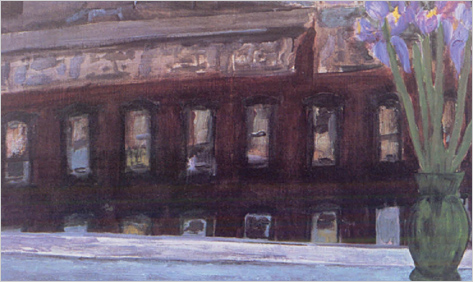 Kentucky: Elizabeth Hardwick never wasn't going to move to New York. Joan Didion, who, like Hardwick, came to New York from somewhere else, with a parvenu's attentive, hungry eye, once wrote: "I was in love with the city, the way you love the first person who ever touches you and never love anyone quite that way again." The quote comes from Didion's famous essay "Goodbye to All That"; by then she had returned to California. For Hardwick, though, it wasn't as simple as first love — it was a marriage. She committed herself. Life was available only in New York.
Newcomers to Hardwick are still advised to begin with Sleepless Nights, the slim, remarkable novel that stands as her masterpiece, but The New York Stories provides an illuminating commentary and context. Arranged chronologically, it makes the case that Hardwick's progress as a writer of fiction followed, like human evolution, a punctuated equilibrium — a long static period followed by a sudden, giant leap forward.
The early stories are deeply indebted to Henry James, a bit schematic, yet ornamented throughout with casual flourishes of intelligence and insight: "Nothing so easily unbalances the sense of proportion in a woman of artistic ambitions as the dazed love and respect of an ordinary man." "A Season's Romance," from 1956, gives a portrait of a young woman desultorily pursuing graduate school in the humanities: "With a nearly unbearable stab of anguish, she realized she had nothing new to say about Van Eyck or about Flemish altar painting." Hardwick shows, with both empathy and mercilessness, the precarious nature of unrooted ambition — the pain of wanting something without being certain what that something is.
A silence occupies the years from 1959 to 1979, a gap that divides The New York Stories roughly in half, and nothing in those early stories prepares a reader for the later work — hard-packed, richly written, hypnotic in its verbal impressionism. All of a sudden Hardwick's prose is capable of passages like this:
Antwerp and Ghent: what wonderful names, hard as the heavy cobbles in the square. Amsterdam, a city of readers. All night long, you seemed to hear the turning of pages: pages of French, Italian, English, and the despised German. Those fair heads remembered Ovid, Yeats, Baudelaire — and remembered suffering, hiding, freezing. The weight of books and wars.
The alert, sophisticated syntax of pauses and accelerations, the collagist's instinct for juxtaposition — Hardwick has struck upon a new vein of style. In an interview with the Paris Review, from 1985, Hardwick discussed a sentence, later cut, from an early version of Sleepless Nights: "Now I will start my novel, but I don't know whether to call myself I or she." With two exceptions, the early stories employ classical third-person narration; the later stories, in addition to "the absence of the lumber in the usual prose" and "the relief from spelling everything out, plank by plank," as she put it, almost exclusively use an unusual, highly attenuated first person. Hardwick had found her tool.
In 1979, the year Sleepless Nights was published, Hardwick turned sixty-three, placing her in that rare category of important artists who got their voices late in life. The astonishing transfiguration of her prose brings to mind Cézanne's career — the stage at which his work underwent a furious metamorphosis and emerged in a heightened state, delirious with its own brilliance. Much the same with Hardwick, it seems. In the Paris Review interview, she said, "For me, writing has not become easier after all these years. It is harder — perhaps because of the standards you set for your work." All along, one imagines, she knew this, the horrible truth about an artist's vocation: it isn't ever enough to be merely very good.