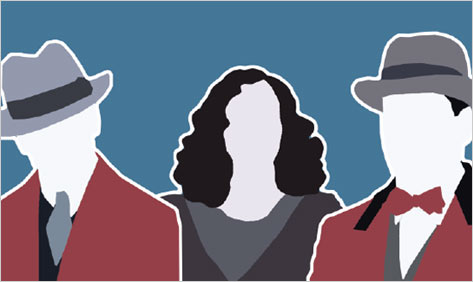 Sir Edward Feathers, QC, began his existence late in life in Jane Gardam's novel Old Filth, first published in this country in 2006. The title comes from Feathers's sobriquet, an acronym of Failed in London Try Hong Kong. Since then the old servant of Empire has popped up three more times in Gardam's work: in the title story of the collection The People of Privilege Hill and subsequently in the novels The Man in the Wooden Hat and this year's Last Friends. If you have not read any or all of these works, you have before you ideal summer reading.

When we first meet Feathers in Old Filth, he is nearing eighty, has been retired for years after a brilliant career as barrister and judge in Hong Kong, and now lives in the little village of St. Ague in Dorset, alone, his wife having died fairly recently. He finds he has locked himself out of his house in a Christmas snowstorm and is forced to seek shelter in the house of his only neighbor, his fellow ex-colonial, archenemy, and legal nemesis, Sir Terence "Terry" Veneering, QC, a thorough bounder in Feathers's opinion ("jumped-up, arrogant, blustering, loud, cynical and common"), who, most appallingly, has chosen this quiet spot for his own retirement. The two old men form a cautious relationship that serves as a catalyst for the surge of memories that propels the series.

Passing back and forth through the years, Old Filth presents the unfortunate episodes that went into making Feathers the emotionally buttoned-up, tamped-down case that he is. Born in a British colonial station in Malaya to a mother who died days after his birth, he was shunned by his father, cruelly separated from his doting native caretaker at the age of five, and sent to Britain as a "raj orphan." He ended up sharing with two distant cousins the horrors of a grotesquely abusive foster home, a place modeled after that described in Rudyard Kipling's autobiographical short story "Baa Baa, Black Sheep." Freed, after four years, from this "house of desolation" by an act that haunts him for the rest of his life, he is sent to a decent school, then evacuated during the war, bound for Singapore. In the event, the port falls to the Japanese as his ship approaches — and young Feathers is taken back to England, the vessel now laden with desperate British refugees.

In marriage Feathers sought a helpmeet who, above all things, would promise never to leave him, and this he finds with Betty, another colonial whom he met in Hong Kong. The union was long and quiet, but only because the couple never spoke of the fact that she had had a sexual liaison with Veneering, a rather large fly in the ointment that only exemplary English reserve could leave unmentioned. In the Far East, they lived the life of respectable, well-to-do representatives of the British Empire, "members of the Cricket Club, the Jockey Club, stalwarts of the English Lending Library, props of St. Andrew's Church." But all of that now exists only in memory: Hong Kong has reverted to Chinese rule; Feathers and his ilk have returned Home (as even the colonials who were born in the East call it), back to that "little ragged-edged off-shore island" (as the prickly Veneering would have it).

The second and third novels in the sequence are not so much sequels or "prequels" to the first as augmentations. As the trilogy advances, the supporting characters from Old Filth emerge from the gloaming with their own life histories, altering, and occasionally exploding, our first understanding of what had occurred. Feathers's wife, Betty, a hazy figure in her first outing, takes the central role in The Man in the Wooden Hat. Also playing a larger part than before is the owner of that curious headgear (which is not wooden, in fact, though very strange and possessed of marvelous properties). This is an Asian dwarf called Ross or Loss — he permits both — whom we met earlier on the aborted voyage to Singapore but who seems to have originated in a fairy tale. Indeed, there are aspects to all the novels that have a fairy-tale quality, including that wondrous hat, a hidden silver stream, and two pearl necklaces.

Despite all the sadness and badness, Old Filth and its successors are comedies, though, to be sure, comedies of a melancholy hue. Throughout the series, Gardam summons much piquant satire out of the courteous, well-educated, impeccably dressed Feathers's and his old friends' exposure to the barbarities of modern England: its brutal highways and aggressive drivers, its squalid public amenities, the triumph of self-assertion over reticence, the cultural ignorance of the Oxbridge-educated young, and a general resentment of what used to be considered "good form." ("Filth ate toasted tea-cake at a plastic table…. The waitress looked at his suit and tie with dislike. The man at the next table was wearing denim trousers, with his knees protruding, and a vest. Brassy rings were clipped into all visible orifices. Filth went back to the car for a quick nap but the rhythmic blast of the passing traffic caused the Mercedes to rock at three-second intervals.") Even the little Dorset village in which Feathers has made his home has been taken over by wealthy London professionals. Ancient dwellings stand empty during the week, serving merely as picturesque second (at the least) homes for weekend getaways.

The unlovely (though handsome) Terry Veneering shows what he's really made of in Last Friends. With its precedent in Mr. Veneering of Dickens's Our Mutual Friend, his name never seemed to fit especially well (except in that Feathers considers him an abominable parvenu). Now we learn that it was slapped on him by a schoolmaster and that his original name was Venetski and that he was the son of a circus performer from Odessa and a mother from Teesside in the North of England. He, like Feathers, was meant to be evacuated during the war but at the last minute left the ship, the ill-fated City of Benares (torpedoed and sunk by the Germans).

Last Friends also sheds light on the monumental cheapskate and sponger Fred Fiscal-Smith. ("Fiscal-Smith had trouble with the ticket inspector, who was slow to admit that you have a right to a first-class seat with only the return half of a Basic, Fun-day Special to another part of the country.") We also see a good deal more of Dulcie, a dotty ex-colonial widow, "a tiny woman in grey moleskin and a hat made of what could have been the feathers of the village rooks. It was a hat bought forty years ago in Bond Street for the Queen's birthday in Dar-es-Salaam where Dulcie's husband had been an easy-going and contented judge even at a hanging." All these old customers are infirm in body, wandering in mind, and lonely, very lonely, marooned by old age and exiled from the scenes of their vital years. For all that, Gardam treats them with kindness and humor, and the series ends on a splendidly unexpected and entirely satisfying note.