Reading from Athena to Zeus.
---
By Homer, translated by Richmond Lattimore
The gods and goddesses of Greek mythology are at their most destructive in Homer's bloody epic. While the focus is on the rage of the human hero Achilles, the meddling deities are both spectactors and manipulators of the battle between Trojans and Acheans — and sometimes they even join in. For a more personal relationship between an individual and his divine patron, follow this with The Odyssey, in which "gray-eyed" Athena helps Odysseus survive his perilous journey back to Ithaca.
---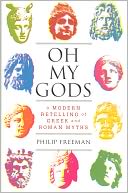 Oh My Gods: A Modern Retelling of Greek and Roman Myths
By Philip Freeman
Greek and Roman gods: the original dysfunctional families. The love affairs, rivalries, and trickery on display in the rich array of stories about the gods and goddesses (and their myriad love affairs) wouldn't be out of place on a 21st-century reality show. Freeman's comprehensive and playful account of the Olympians in a modern vernacular makes for immortal entertainment.
---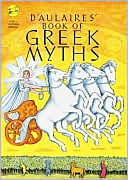 D'Aulaire's Book of Greek Myths
By Ingri and Edgar Parin D'Aulaire
The original myths in all their glory, illustrated incomparably. From the shadowy origins of the Olympians — consumed as infants by their fearful father, the titan Cronus — to the feats of heroes like Perseus (with a little help from divine cheerleaders), the D'Aulaires bring their boldly colored, instantly recognizable painting style to these stories for young readers — and spark the memories and imaginations of adults who return to these beautiful pages.
---
By John Banville
The Greek pantheon has been the inspiration for a wide variety of recent works of fiction. In The Messenger of Athens, Ann Zouroudi introduced readers to Hermes Diaktoros, a detective of possibly divine origin. Dan Simmons imagined a race of "Post-Humans" taking on the personae of Zeus & Co. in Ilium. And, of course, in Rick Riordan's Percy Jackson series, a boy finds himself part of a hidden world of modern Olympians. In The Infinities, Man Booker Prize-winner John Banville surrounds a dying writer and his fractured family with the scheming of Greek divinities — who display distinctly earthly appetites.
---
Edited by Anthony Grafton, Glenn W. Most, and Salvatore Settis
This magnificent compendium explicates the outsized influence Greek and Roman society, literature and myth has had on the medieval and modern European ages that followed, and in turn on the imperial culture exported around the world. The Greek gods and their attributes — from wise Athena and fierce Ares to bibulous Dionysus — are key elements in a worldview we still look back on, at once alien and familiar. A wonder of research and writing that connects both casual browser and scholar to centuries of learning.