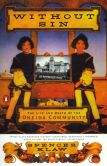 John Humphrey Noyes began the Oneida Community, one of nineteenth-century America's most enduring and controversial utopian settlements, on this day in 1847. Noyes and his followers had practiced their beliefs — these included "Bible Communism," earthly "Perfectionism" and, most notoriously, a free love form of "complex marriage" — since the early 1840s in Putney, Vermont. But when the group expanded, and when the Putney authorities came looking for him on charges of lewd behavior, it seemed timely, as Noyes expressed it to his believers on June 1, 1847, "to commence the testimony that the Kingdom of God has come." The secluded commune in Oneida, New York was established by the following year, growing to a peak of 300 members over the next three decades. In 1879, when Noyes was again forced to flee for sex-related legal reasons, the community soon disbanded, with many of the remaining men and women opting for a conventional marriage and lifestyle.
Oneida has long been studied, whether for its social organization, sexual mores, eugenic practices, or economic success — notably, the silverware business that became Oneida Limited, still an international leader in the industry. When the full community records became available in 1993, a more personal portrait of settlement life began to emerge. Desire & Duty at Oneida (Robert Fogarty, 2000) is based upon the journals of Tirzah Miller, a niece to Noyes and one of his intimates. Her entries cover a full range of emotion, from utter devotion and compliance to a feeling that Noyes was a "crazy enthusiast…experimenting on human beings" to "Oh, this living in communism is terrible, terrible!" This entry from June, 1847, a week before Noyes would flee, reflects the infighting over spiritual and sexual power which eventually undermined Oneida's survival:
Mr. Noyes proposed today his privateering scheme. He says W.A.H. has steadily sought to break down respect for the ascending fellowship until now the social condition of the Community is very much that of a [sexual] grab-game. It is his undying faith that in a grab-game the righteous will beat the wicked, and he resolved he would set the men who are loyal to him to attracting all the love they could from the young women and girls. He gave rover's license [permission to pick and choose women without Noyes's sanction] to Jamie, Homer, Frank, Edwin and George F.
---
Daybook is contributed by Steve King, who teaches in the English Department of Memorial University in St. John's, Newfoundland. His literary daybook began as a radio series syndicated nationally in Canada. He can be found online at todayinliterature.com.