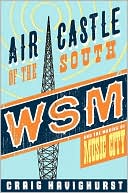 The Grand Ole Opry, the world's longest-running live radio show, had its start on this day in 1925 when the new radio director at Nashville's WSM, searching for a wider audience, tapped a musical nerve:
On November 28, 1925, young George Hay sits an old white-bearded man before one of the station's newfangled carbon mikes. He lets him play a few fiddle tunes. The switchboard lights up and telegrams pour in. The old man, Uncle Jimmy Thompson, plays for an hour, and across the country listeners scramble for the earphones to their old crystal radio sets. Hay gets an idea: why not have a regular weekly radio show of this sort of stuff? Soon he is besieged by pickers and fiddlers of every variety: "We soon had a good-natured riot on our hands," he recalled. The show was off and running.
The above version of the Opry's legendary start is taken from (and gives title to) Charles K. Wolfe's A Good-Natured Riot: The Birth of the Grand Ole Opry. Wolfe demonstrates that the real events were "more dramatic, and in more complicated ways, than even George Hay remembered." Much of the drama emerges when the story of the Opry is placed within the larger story of American radio. Though still in its infancy in America, the medium was beginning to show its power — for example, four months earlier, just down the road in Tennessee, the Scopes Trial had been broadcast live to radio listeners in Chicago by WGN.

WGN was owned by the Chicago Tribune, the station's call letters advertising the "World's Greatest Newspaper." It was among the many other one-business or one-sponsor stations of the day — Chicago's WLS ("World's Largest Store," owned by Sears), Charlotte's WBT ("Watch Buicks Travel," owned by a local car dealer), and the like. Nashville's WSM ("We Shield Millions") was owned by the National Life and Accident Insurance Company, and one of its directors was a radio enthusiast. When the company moved into a new, hilltop building in downtown Nashville, the new station was launched; when it fired up its distinctive, 878-foot tower in 1932, then the tallest antenna in North America, it became the "Air Castle of the South." This station advertisement, once famous throughout the South, gives title to Craig Havighurst's recent Air Castle of the South: WSM and the Making of Music City.
---
Daybook is contributed by Steve King, who teaches in the English Department of Memorial University in St. John's, Newfoundland. His literary daybook began as a radio series syndicated nationally in Canada. He can be found online at todayinliterature.com.