Faced with conflicting evidence and no smoking kiss, the biographers of Twain's last years have staked claims on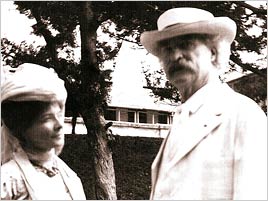 every available patch of the 'other woman' question. Some are convinced that Twain's relationship with Isabel Lyon, his secretary and house manager, was the affection of a lonely widower for a compassionate helpmeet. Item, Twain's letter to his sister-in-law in the winter of 1905, seven months after Livy's death:
I sat & looked out at the storm & listened for hours while Miss Lyon played on the orchestrelle … dirges, funeral marches, &—saddest of all—wedding marches. The wedding is never otherwise than a tragic event, & all present should be clothed in black, & upon the wedding-bell should be written 'A day is coming when one of these hearts shall break.'
Those more intrigued by how and why Twain's relationship with Lyon changed so dramatically point to a letter he wrote in the winter of 1910, describing the banished secretary as "a liar, a forger, a thief, a hypocrite, a drunkard, a sneak, a humbug, a traitor, a conspirator, a filthy-minded and salacious slut pining for seduction & always getting disappointed."
Twain always had at least one eye on his audience, and Lyon's defenders point out that his 1910 letter is to his daughter Clara, who regarded Lyon as a rival for her father's heartstrings and estate, and whose complaints had reached the ultimatum stage. But even if Twain's comments slander Lyon, they seem about right for her eventual husband, Ralph W. Ashcroft. He began as Twain's financial advisor, became a trusted friend, married Lyon to enlarge his opportunities, and almost certainly deserved Twain's final verdict: "Ashcroft is manufacturing forgeries to rob Clara with when I am dead."
Whoever was guilty of whatever crimes, the unending accusations and manipulations left Twain in despair over his lost family and peace of mind: "Nothing is as it was. Everything is changed. …Stormfield was a home; it is a tavern, now, & I am the landlord."
Next week we begin to explore the decade 1890-1900, which Twain also spent homeless, though welcomed worldwide.
---
Steve King contributes Daybook to the Barnes & Noble Review and teaches in the English Department of Memorial University in St. John's, Newfoundland. His literary daybook began as a radio series syndicated nationally in Canada. He can be found online at http://www.todayinliterature.com.