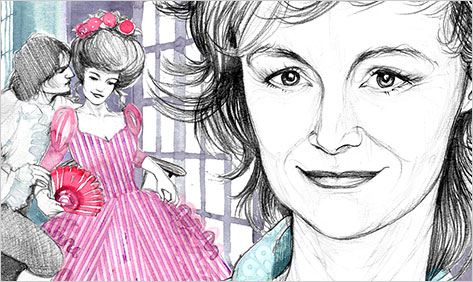 You know those moments when you look across a restaurant and think: How did she end up with such a gorgeous man — and how on earth does she keep him? We tend to assume that beautiful people should wind up with each other, forgetting that peahens share none of the startling splendor of peacocks. Beauty is power, however, and a marked lack of balance in an intimate relationship seems dangerous. How would it feel to be the partner whose looks don't dazzle? The wife who never garners compliments, let alone phone numbers? These five romances feature a mix-matched couple: an eye-catching peacock of a man and a woman who's quite ordinary. In each case, the potential for heartbreak is enormous. And in each case, the reader has the utter satisfaction of watching that ordinary woman realize that love gives her a power that beauty cannot.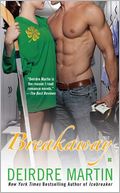 The heroine of Deirdre Martin's Breakaway, Erin O'Brien, is in the unpleasant position of having been dumped by Rory Brady, her childhood sweetheart turned professional hockey player. She put her life on hold, waiting at home in Ireland while Rory went through college in America and tried out for the NHL — until he dumped her over the phone. Since then she's only seen her David Beckham look-alike on TV, surrounded by adoring fashion models. Meanwhile, she's still in Ballycraig, washing dirty sheets in her mother's B&B, desperately trying to finish her B.A. part-time, and stewing in rage. She may be "nothing special to look at," but she thought Rory truly loved her. So when he finally shakes off the models (surrounding him like "crows on road kill," in his unromantic estimation) and returns to Ballycraig in hopes of winning her back, his own grandmother thinks he hasn't a chance. Even if Erin weren't hurt and angry, she feels that the gorgeous women surrounding Rory put him on "a different level now." There is enormous satisfaction in watching Erin finally realize that Rory is at her feet — which puts him a level below her.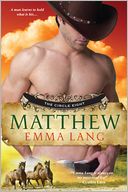 Erin is washing her mom's dirty sheets at the B&B in the present day; Hannah Foley, in Emma Lang's Matthew, is washing dirty dishes at a boarding house in 1836, but they have more in common than crushing housework. Hannah's self-esteem is even more battered than Erin's, because she knows perfectly well that girls like herself never have beaus. Hannah has brown hair, brown eyes, and a plump behind: "plain as toast," in her own eyes, and "plain as prairie wheat," in Matthew Graham's estimation. Normally, she would never merit a second glance from a ranch owner like Matthew. But when a Land Grant officer tells Matthew he must produce a wife or lose the land that his murdered father had claimed, he offers up a fictional spouse named "Hannah" – and winds up proposing to the real one. The plot is all the more delicious because the power imbalance is so starkly drawn between the "sturdy" Hannah and "handsome as sin" Matthew. But good marriages are more than skin deep, and the moment when Matthew realizes that he can't imagine his life without Hannah is very sweet for her — and the reader.


Anne Gracie's Bride by Mistake is, as the title suggests, another marriage-of- convenience story, this one set in England and Spain in the wake of the Napoleonic Wars. The actual marriage in question, between Lord Luke Ripton and his wife Isabella, happened years ago. In a moment of wartime crisis, Luke married a twelve-year-old, thinking only to protect her from a forced union. He then deposited her in a convent…for eight years. When he finally shows up after his request for an annulment is refused, Isabella is nearly twenty-one. Luke remembers her looking like a newly hatched and ugly bird; now she's grown, but there's nothing swanlike about her: she's a skinny, plain, and furious woman. Luke, on the other hand, is breathtaking: tall, dark, and severe — as beautiful, the other convent girls insist, as a fallen angel. He's resigned to the marriage, certain that Isabella's convent upbringing means that she will be a docile wife. But as soon as she can, Isabella deserts Luke and takes off to find her half sister in an enchanting plot twist that sends the two careening through Spain. Luke has been traumatized by war and is terrified by Isabella (at one point he wonders desperately how he can stop this "galloping intimacy"). Isabella is sparkling and funny and sensual. She believes that someone like Luke would never have chosen to marry a woman like her, and the moment she tells him so is devastating. But Luke thinks with his heart, not his eyes. When they're back in England, laughing as they circle the ballroom, his mother cries because a funny little Spanish girl brought back the Luke she knew before the war, and I found myself teary, too.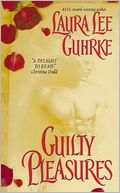 Both Hannah and Erin are economically disadvantaged by comparison with their beautiful partners, which redoubles the pleasure when those gorgeous, wealthy men fall in love with them. Laura Lee Guhrke's Guilty Pleasures offers a terrific version of the same conundrum. Daphne Wade works for Anthony Courtland, Duke of Tremore — and if her guilty pleasure is stealing glances at Anthony's bare chest as he works on the excavation of the Roman ruin found on his estate, it hardly matters, because he's so far above her. Daphne is a plain, penniless woman hired to restore the duke's antiquities. Anthony, on the other hand, combines his title with the look of a "Roman god carved of marble." Of course, Daphne is secretly in love with him, though that changes when she overhears his brutal assessment of her as "pathetic…as noticeable as a stick insect on a twig." She wakes up the next morning realizing that the duke is an unpleasant, cold man, whose indifferent scorn is characteristic. Guilty Pleasures catches fire the moment that Daphne gives Anthony a month's notice, telling him precisely what she thinks of him. Anthony is not only shocked (no one talks to a duke like that) but horrified, due to the looming opening date of his museum. Desperate to keep Daphne working for him, he trades a dowry, then dancing lessons, then kisses, for more working time. Daphne proves a sturdy opponent: even seduced by Anthony, she won't marry him, and that makes his repeated proposals — culminating in the one that details the many ways he needs her — all the more romantic.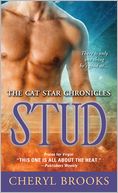 Like the other men in this column, Tarq, the hero of Stud, by Cheryl Brooks, has blue eyes — but with catlike pupils, ears with pointed tips, blond ringlets that hang to his waist, and eyebrows that slant to his temples. In short, Tarq is Spock made beautiful, his forte not brains but body. Tarq is a Zetithian who is traveling the cosmos, making himself "available to any ladies wishing to conceive and bear my young," in an effort to rebuild his race, decimated by galactic war. Lucy is an ordinary girl caught — like Hannah and Erin — in the drudgery of a low-income job. Stud is much more explicitly erotic than the other novels in this column, but it's also more complicated than that label suggests. Tarq may be physically irresistible , but he feels powerless and humiliated by his "job;" in his estimation, "he was too stupid to do anything else." His dyslexia is not the only problem: the fact that he served in a brothel make him feel used as well. This is a complex novel whose deep emotions belie its easy eroticism. Lucy tries hard not to love Tarq, because she knows he'll leave: "[Y]ou can have anyone…anywhere." What she doesn't know is that once a Zetithian falls in love, he can never again make love to another woman. This is a slightly crazy novel, a distillation of the whole idea that the most desirable, beautiful man in the universe could fall at an ordinary waitress's feet. But as pure wish fulfillment Brooks's tale succeeds, and with a good deal of imaginative flair.
---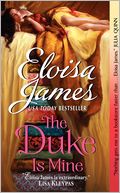 Eloisa James's latest novel, The Duke is Mine, is out now!
Please do check out Eloisa's past columns in the Archives, and if you'd like to get her reaction to romances as she reads them, follow her on Facebook or Twitter.
For sneak peeks at all Eloisa's romances, please visit her web site at www.eloisajames.com.