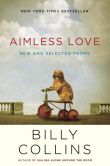 Moving from the position of United States Poet Laureate to New York State Poet Laureate might seem like a demotion or a drop in rank to the military-minded. It might even appear that I am heading toward eventually being crowned laureate of my ZIP code.
Billy Collins was born on this day in 1941. The latest of Collins's distinguished titles is Aimless Love, a collection of humor-laden, reader-friendly poems that became a bestseller, rare feat for the genre. Though an English professor himself, Collins devoted much of his time as Poet Laureate to editing two collections, Poetry 180 and 180 More, which hoped to show students that high school need not be, as Collins puts it in his Introduction, "the place where poetry goes to die."

In a number of poems Collins reflects on what the pleasures of poetry, or reading in general, once were and can still be. In "A Portrait of the Reader with a Bowl of Cereal," the happy poet composes at his breakfast table, his imagined ideal reader there with him, "your spoon dripping milk, ready to listen." In "First Reader," Collins recalls Dick and Jane, "the boy and girl who begin fiction," who called to him from a world that "was always Saturday and he and she / were always pointing at something and shouting 'Look!'" In "Reading Myself to Sleep" he wonders,
Is there is a better method of departure by night
than this quiet bon voyage with an open book,
the sole companion who has come to see you off,
to wave you into the dark waters beyond language?
---
Daybook is contributed by Steve King, who teaches in the English Department of Memorial University in St. John's, Newfoundland. His literary daybook began as a radio series syndicated nationally in Canada. He can be found online at todayinliterature.com.