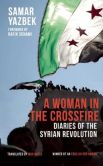 The Syrian civil war is three years old today, having officially begun with a "Day of Rage" protest on March 15, 2011, in Damascus and Aleppo. The roots of the rage can be traced, says Samar Yazbek in her memoir A Woman in the Crossfire, to the sectarian, clan-based culture which President Assad exploited while establishing his "Mafia-like network of power":
All positions of power were assigned to brothers, cousins, brothers-in-law or sons-in-law. If the clan was not numerous enough, friendly clans, neighbors or childhood friends were roped in. This is how these corrupt pyramids of power were built, layer upon layer. At the very bottom are the people.
A Syrian writer and journalist, Yazbek decided early in the fighting to side with the Syrian people. A Woman in the Crossfire, winner of the prestigious PEN/Pinter "International Writer of Courage" Award, documents her "crime of treason" against her Assad-friendly clan, for which she was persecuted and eventually forced to flee into exile with her daughter:
Now I am an infiltrator among my own family, an infiltrator in my own bed. Now I infiltrate everything and I am nothing…. I infiltrate the sorrow of every Syrian who passes before my eyes. I hear the sounds of gunfire and prayer. I am a mass of flesh, trudging each morning from house to house, trying to find one last document for salvation, claiming to be doing something adequate to my belief in the value of working for justice.
---
Daybook is contributed by Steve King, who teaches in the English Department of Memorial University in St. John's, Newfoundland. His literary daybook began as a radio series syndicated nationally in Canada. He can be found online at todayinliterature.com.