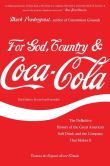 The Atlanta pharmacist John Pemberton sold his first drink of Coca-Cola on this day in 1886. The humble, homey origins of the world's most ubiquitous soft drink are a cornerstone of the Coca-Cola legend and marketing scheme. In For God, Country and Coca-Cola, his study of the drink and the company, Mark Pendergrast says, "There is no question that The Coca-Cola Company loves its own history," even when inaccurate. This is nowhere clearer, says Pendergrast, than in the official view that Pemberton was "a poor but lovable old Southern root doctor who stumbled upon the miraculous new drink" when he inadvertently mixed the syrup he had brewed in a backyard kettle with carbonated rather than plain water:
This official version of events is a myth, however. John Pemberton was not a simple, uneducated root doctor. He did not brew the drink in his backyard. More importantly, far from being a unique beverage that sprang out of nowhere, Coca-Cola was a product of its time, place, and culture.
America at the time was "a nation of neurotics," easy prey for "the golden age of quackery." Part "nerve tonic" and part elixir, Coca-Cola competed with patent medicines that offered their own mysterious recipes and alliterative allure — Botanic Blood Balm, Goff's Giant Globules, Dr. Jordan's Joyous Julep, Dr. Pierce's Pleasant Purgative Pellets…. How Pemberton's drink immediately and enduringly elevated itself above its rivals is a tale of taste, distribution, and, aside from several near-disastrous decisions over the company's 125-year history, shrewd marketing.

By all accounts, the most important moment in the company's early history came in 1915, when glass bottle manufacturers across the U.S. were invited to submit a distinctive design for the increasingly popular drink. The appropriately named Root Glass Company of Terre Haute, Indiana, put their bottle designer, Earl Dean, on the project. His research in the Encyclopaedia Britannica told him that the ripe seed pod of the cocoa tree, thought by the ancients to produce a beverage "fit for the gods," has "an elliptical-ovoid shape, from 7 to 10 in. in length and from 3 to 4.5 in. in diameter. It has ten very distinct longitudinal ribs or elevations." Dean incorporated the pod's scale, shape, and ribs into his design, creating a new kind of bottle that "would change the dynamics of an entire industry" and "become an international icon."
---
Daybook is contributed by Steve King, who teaches in the English Department of Memorial University in St. John's, Newfoundland. His literary daybook began as a radio series syndicated nationally in Canada. He can be found online at todayinliterature.com.