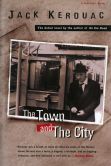 Jack Kerouac's first novel, The Town and the City, was published on this day in 1950. Although it sold very poorly, the book received some good reviews and comparisons to Thomas Wolfe for its overflowing, sometimes lyrical style. It is a conventionally told coming-of-age story, though the ending, set up as something of a parable, rings a bell: one brother chooses town (to be a farmer near home), one brother chooses city (to be a Sorbonne student), and one brother
…was on the road again, traveling the continent westward, going off to further and further years, alone by the waters of life, alone, looking towards the lights of the river's cape, towards tapers burning warmly in the towns, looking down along the shore in remembrance of the dearness of his father and of all life…. He put up the collar of his jacket, and bowed his head, and hurried along.
Kerouac was well along with On the Road when The Town and the City was published. He was also beginning his experiments with the "spontaneous prose" of his later fame, though journal entries from this period reflect a methodical resolve and a former football player's training habits:
My new plans for March: — soon as I get my money [Town and City advance], I'll join the morning club at the "Y" and workout almost every weekday. Also, black coffee (no cream & sugar); chinning from the door (which has no real grip so I can only do 10 or 11 or 12); and less sleep. I'd been getting fat and lazy. Time for action, time for a new life, for my real life. I'll be 28 in two weeks…a goodly age. Two meals a day instead of three. Much traveling. No stagnation. No more formal sorrows! No more metaphysical awe! Action…production-speed…grace…Go! (The Windblown World: The Journals of Jack Kerouac 1947–1954)
Surrounding journal entries describe days beginning or ending at 4 a.m. — marathon writing or reading sessions (Dostoyevsky, Balzac, T. S. Eliot), hanging out in New York jazz clubs to hear Dizzy Gillespie or Miles Davis. Before publication day Kerouac proudly records, "A notice about my book in Lowell [his Massachusetts hometown] Sunday Sun. I gloat more & more in the fact that I may be rich & famous soon…." His entry on April 3, The Town and the City now out a month: "BOOK NOT SELLING MUCH. Wasn't born to be rich. Am squaring off a triangle now."
---
Daybook is contributed by Steve King, who teaches in the English Department of Memorial University in St. John's, Newfoundland. His literary daybook began as a radio series syndicated nationally in Canada. He can be found online at todayinliterature.com.