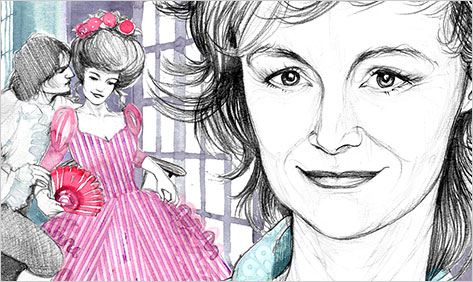 There's no magic formula detailing the ingredients of a great romance — but that doesn't mean there aren't rules! This month, not only were a host of wonderful historical romances published, but many of them were case studies in what makes a story set in the past tick. If you don't normally read romances where the heroines are in long dresses and the heroes wear breeches, this column is for you: these novels are deeply satisfying versions of their sub-genre. And that's because, among their many other talents, their authors know the Rules of the Road.

Rule #1: The best hero is a rich hero.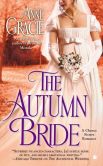 Poverty goes along with hunger and dirt, and debtors' prisons do not make fun settings for novels. Historicals do, however flirt with the danger of deprivation. In the prologue to Anne Gracie's The Autumn Bride, Lord Davenham inherits a debt-ridden title, so he strikes a bargain with a rich merchant and sets off for the Dutch East Indies. By the time the novel opens, Max has (thankfully) become rich as Hades, but governess Abigail Chantry is in the opposite state. Driven by necessity, Abby crawls in a window to start a career as a thief. But she discovers not jewels but Max's mistreated, ill aunt, Lady Beatrice, who politely whispers apologies that "your visit was in vain, Miss Burglar." A tremendously likable heroine, Abby comes to the rescue, and when Max finally arrives home, he discovers a spitfire in charge of his aunt's household. Max and Abby are a combustible pair, but alas, he cannot offer her his hand in marriage because a vow stands in the way. Which leads us to Rule #2.

Rule #2: A hero's honor is his proudest possession.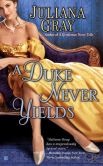 Honor almost always plays a role in historicals: it is actually more important than being rich. Just like Max, the hero in Juliana Gray's A Duke Never Yields, has made a vow that stands in the way of marital happiness. The Duke of Wallingford and his friends swore to retire to the Italian countryside for a year of study and contemplation — free from the distractions of women. Since the novel loosely follows Shakespeare's plot in Love's Labor's Lost, that Italian villa turns out to house three beautiful ladies who have made a similar oath, one of whom is Miss Abigail Harewood. Abigail's efforts to lure Wallingford into breaking his vow are utterly enchanting, but he manages to stand firm — because if he breaks his word, he loses his honor. Duke is an utterly delightful, sensual tale whose plot turns around Abigail's conviction that "Wallingford would never break his word." But here's a twist:

Rule #3: The heroes often appear to be without honor.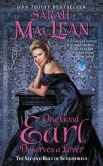 Even when Wallingford thinks he's lost his honor…he hasn't. In fact, practically every hero believes that he's lost his integrity, only to prove himself the most most gentlemanly of them all. Take Cross, the hero of Sarah Maclean's One Good Earl Deserves a Lover, for example. His name isn't Cross, and you can guess his rank from the book's title. But Cross considers himself to be nothing but a rogue and — even worse — one who runs a gambling den. As he tells Lady Lady Phillippa Marbury, the world is full of "liars and cheats and every sort of scoundrel," and he is one of them. Pippa asks him to do something that any self-respecting rogue would do — ruin her — but Cross chooses to lecture rather than seduce. Still, Pippa, like Abigail, won't take no for an answer. One Good Earl shows pitch-perfect control of the heart of romance. I loved the moment when Cross takes a vow of his own: to "do everything I can to make himself worthy of you. Of your kindness and your honesty and your heart."

Rule #4: Heroines are as feisty and intelligent as their partners.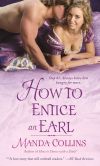 These days a woman can waltz into a strip bar, or a cigar shop, or even a men's bathroom without any repercussions. Not true in the past! Even so, heroines in the best historicals tend to flaunt their bravery: Pippa walks into Cross's gambling den, and Lady Madeline Essex does the same in Manda Collins's How to Entice an Earl. From there, the plots go in entirely different directions, because while Maddie does encounter an earl (Christian Monteith, the new Earl of Gresham) in the gambling den, she finds a dead body as well. Since Maddie is a novelist, she takes the dead man in her stride — it's all material for the page. Heroines such as Maddie and Pippa acknowledge the social laws that impinge on their freedom — and then artfully find their way around any obstacles, including disapproving, if captivating, earls. Still, in case you're thinking that women are the only ones bound by social rules…

Rule #5: It's not only women who face restrictions.


An English nobleman is not free to marry whomever he wishes. His bride may be a member of the gentry, or even the mercantile class, but never a servant (reference Rule #2: an honorable man never seduces a woman who cannot afford to say no). That means that when Maximillian Burke, Teresa Medeiros's hero in The Temptation of Your Touch, shows up at Cadgwyck Manor in Cornwall, he realizes instantly that a unruly attraction to his housekeeper, Mrs. Spencer, signals nothing but trouble. It turns out he's taken on an eccentric, scrappy household that includes a beautiful ghost with a taste for eerie music. But his biggest problem is Anne, the alluring housekeeper. In historical romances, the hero often rides to the rescue, but this time it's the hero who needs saving — from "spending the rest of my life longing for a woman that I can never have." Whether Anne accepts his hand or doesn't…whether she breaks one of the most formidable rules structuring British society in the 1800s…well, waiting to discover that answer is one of the deepest pleasures of historical romance.

Rule #6 is no rule at all. It's just a fact. Maximillian isn't alone. Heroes need saving just as much as heroines do; it's just that the rescue is of a different sort. I'll let Sarah's Maclean's Cross articulate it: "I need you, Pippa…I need you to be my Orpheus. I need you to lead me out of Hell."
---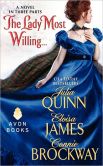 Eloisa James's latest novel is The Lady Most Willing.
You can check out Eloisa's past columns in the Archives, and if you'd like to get her reactions to romances as she reads them, follow her on Facebook or Twitter.
For sneak peeks at all of Eloisa's romances, please visit her web site at www.eloisajames.com.