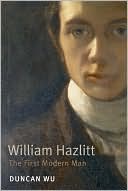 William Hazlitt was born on this day in 1778. Beyond being one of England's greatest critics, essayists, and lecturers, Hazlitt was also a portrait painter. His 1802 self-portrait is used as cover art for both of the most recent biographies of him — Duncan Wu's William Hazlitt: The First Modern Man (2008) and A. C. Grayling's The Quarrel of the Age: The Life and Times of William Hazlitt (2001) — no doubt because it captures the same sort of passionate and fearless gaze displayed in Hazlitt's prose and popular talks:
Hazlitt is giving lectures on poetry; they are said to be the finest lectures ever delivered. He is the Shakespeare prose writer of our glorious country; he outdoes all in truth, style and originality….
This praise, from the contemporary English painter William Bewick, refers to the series of lectures Hazlitt gave in London in 1818, launching himself to fame. Using many diary and letter accounts of the great reception given to the lectures, biographer Grayling paints a vivid picture of literary London in 1818. Mary Shelley's Frankenstein was published that year (her parents attended Hazlitt's lectures), along with Jane Austen's Northanger Abbey and Persuasion (she had died the previous year), Sir Walter Scott's Rob Roy (the demand in London so great that a ship arrived from Edinburgh loaded only with copies of the novel), Keats's Endymion, and the first part of Byron's Don Juan (launching him to fame also). On the evening of Hazlitt's third lecture in the poetry series, Coleridge was also lecturing; with Hazlitt scheduled for 7 p.m. and Coleridge an hour later, diarist Henry Crabb Robinson reports that by catching a quick ferry across the Thames he was able to catch most of both talks.

Coleridge was just forty-five at this point — only six years older than Hazlitt, the two of them the most famous talkers of the age — but he was losing focus, and Hazlitt was unafraid to say so. In his essay "Coleridge," published in 1819, Hazlitt despairs at Coleridge's most recent works, in which he "will neither let any body else come to a conclusion nor come to one himself":
He moves in an unaccountable diagonal between truth and falsehood, sense and nonsense, sophistry and common-place, and only assents to any opinion when he knows that all the reasons are against it. A matter of fact is abhorrent to his nature: the very air of truth repels him. He is only saved from the extremities of absurdity by combining them all in his own person.
---
Daybook is contributed by Steve King, who teaches in the English Department of Memorial University in St. John's, Newfoundland. His literary daybook began as a radio series syndicated nationally in Canada. He can be found online at todayinliterature.com.