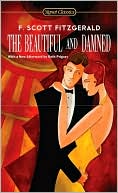 March 3: F. Scott Fitzgerald's The Beautiful and Damned was published on this day in 1922. In a letter written as he was just beginning the novel, Fitzgerald described his hero as "one of those many with the tastes and weaknesses of an artist but with no actual creative inspiration," his story one of a couple who are "wrecked on the shoals of dissipation." In later comments, Fitzgerald explained the couple's self-destruction as a reflection of "the exquisite perfection of their boredom, the delicacy of their inattention, the inexhaustibility of their discontent." The tone of authorial detachment is conveyed in the novel's opening sentences:
In 1913, when Anthony Patch was twenty-five, two years were already gone since irony, the Holy Ghost of this later day, had, theoretically at least, descended upon him. Irony was the final polish of the shoe, the ultimate dab of the clothes-brush, a sort of intellectual "There!"
Reading this second novel as if a sequel to This Side of Paradise, published two years previously, many first reviewers emphasized the author's new perspective: "Life it seems is now meaningless; the beautiful are damned; the glamour he once saw was only a gauze curtain lowered before the stage to conceal the fact that those twilight nymphs were, after all, only middle-aged chorus ladies" (John Peale Bishop's "Mr. Fitzgerald Sees the Flapper Through," New York Herald, March 5, 1922). But it was not long before a biographical reading took over—the Patches' beauty-damnation read as a mirror of Fitzgeralds' own—and waves of ironies have beat against Fitzgerald's career for over a half-century now. In his introduction to a recent Signet edition, editor-biographer Jay Parini says that in The Beautiful and Damned "It were almost as if Fitzgerald were reading his own palm." Of course, in her 1922 mock review of the novel, Zelda claimed the palm as her own:
[O]n one page I recognized a portion of an old diary of mine which mysteriously disappeared shortly after my marriage, and also scraps of letters…. In fact, Mr. Fitzgerald—I believe that is how he spells his name—seems to believe that plagiarism begins at home.
---
Daybook is contributed by Steve King, who teaches in the English Department of Memorial University in St. John's, Newfoundland. His literary daybook began as a radio series syndicated nationally in Canada. He can be found online at todayinliterature.com.